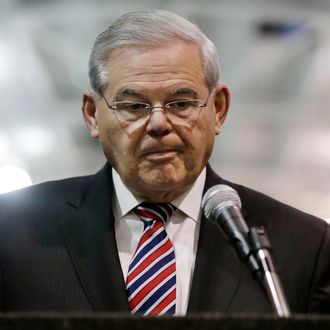 Photo: Mel Evans/AP/Corbis
As expected, Senator Robert Menendez has been indicted on federal corruption charges. The New Jersey Democrat was charged with 14 counts — eight counts of bribery, and other charges of conspiracy, fraud, and making false statements. It is not clear whether Menendez will step down from his role as ranking Democrat on the Foreign Relations Committee, or how a Menendez-less committee would change the Senate's response to the Iran negotiations or a new Authorization for the Use of Military Force against ISIS. 
The charges stem from Menendez's relationship with Dr. Salomon Melgen, who has donated to the senator's campaigns and has also been charged. The indictment accuses Menendez of helping three of Melgen's girlfriends obtain visas, as well as using his office to support Melgen financially.
Menendez is the eleventh senator to be indicted on federal charges. Only one saw their career continue after such scrutiny. The last senator to face federal charges was Senator Ted Stevens, now deceased, who lost reelection, although his case was later dismissed owing to prosecutorial misconduct. 
He is the first senator to face federal bribery charges since 1980, when another New Jersey Democrat got involved in the Abscam scandal. 
Menendez told reporters in early March that he is "not going anywhere," and has denied doing anything wrong. The Wall Street Journal asked New Jersey Governor Chris Christie about the indictment. "Everybody deserves the presumption of innocence and there's no reason for me or anybody else to get out ahead of themselves," he said.
If your first thought after reading this is, Why does this always seem to happen in New Jersey? here are historical and statistical explanations for why.