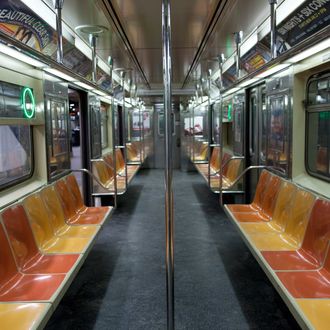 Interior of a subway car.
Photo: Wendy Connett/flickr/Getty Images
Four Swedish cops vacationing in New York came to the rescue on Wednesday when a subway operator on an uptown 6 train at the Bleecker Street station shouted for help over the intercom, asking if there were any cops on the train. "We don't have [any] authority or anything but we thought somebody might need help," Samuel Kvarzell told DNAinfo. When they arrived in the front car they found two homeless men engaged in a bloody brawl. They managed to break them apart and pin down the aggressor. "We got to make sure that nobody gets hurt," said Makrus Åsberg. "Try to calm them down without hurting them." After the NYPD took over, Åsberg told the New York Post he and his fellow officers needed a beer, adding, "We're no heroes, just tourists." Then they continued making their way uptown, as they had tickets to see Les Misérables.