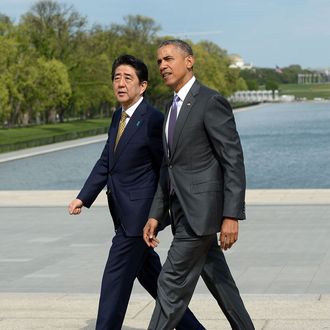 Photo: Mandel Ngan/AFP/Getty Images
The White House is hosting Japanese Prime Minister Shinzo Abe tonight for a State dinner, and Obama welcomed him Tuesday morning with a ceremony on the south lawn. In addition to a 19-gun salute and the playing of both the Japanese and U.S. national anthems, Obama also gave a nice little speech encouraging Americans to thank Japan for their excellent contributions to society, like emoji.
"Today is also a chance for Americans — especially our young people — to say thank you for all the things we love from Japan," Obama said. "Like karate, karaoke, manga, anime and of course, emojis."
Strangely, he did not address what is perhaps Japan's most beloved export: tentacle porn.