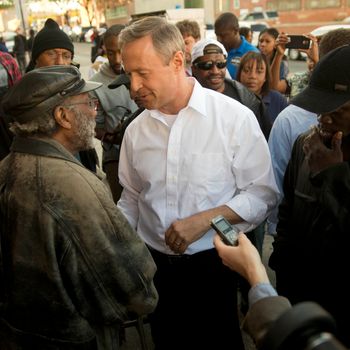 O'Malley in Baltimore on Tuesday.
Photo: AP Photo/Matt Rourke
A lack of national name recognition is one of the biggest hurdles for likely Democratic presidential candidate Martin O'Malley, but now he's generating headlines that threaten to derail his campaign even before it officially starts. Critics say O'Malley's "broken windows"-influenced crackdown on crime when he was mayor of Baltimore from 1999 to 2007, then Maryland's governor until January of this year, worsened the decades-old tension between Baltimore police and the black community. On Tuesday O'Malley toured the damage from the riot following Freddie Gray's funeral, but his attempt to demonstrate leadership only wound up drawing attention to his role in creating the conflict.
Following a few tweets about the protests, O'Malley said on Monday that he would cut short his trip to Ireland, where he had several paid speaking engagements, to return to his hometown. As Baltimore journalist C. Fraser Smith told Politico, he didn't have much of a choice: "He's either back here trying to get into The New York Times or he's off lollygagging in Europe." However, since O'Malley currently does not hold office, many found his appearance at Tuesday's protest awkward and opportunistic.
O'Malley's spokeswoman said he would be "doing what he can to raise awareness about volunteer opportunities, while participating in the healing process with the people of Baltimore." That meant attending a community meeting on the city's west side, checking out the senior center that burned in East Baltimore and walking up Pennsylvania Avenue near the CVS that was looted and set on fire.
"I just wanted to be present. There's a lot of pain in our city right now, a lot of people feeling very sad," O'Malley told reporters, according to the Washington Post. "Look, we've got to come through this together. We're a people who've seen worse days, and we'll come through this day."
As he walked by peaceful protesters, O'Malley chatted with a former employee who read him the names of young black men who he said were the victims of police brutality and got a hug from a man who said he was off drugs thanks to a government prison program. But he was also heckled by several people. One man asked him what he was doing about the boarded-up houses in the neighborhood. "You made a lot of promises," he shouted. "And I did the best that I could," O'Malley said. "In what community? Not in the black community!" the man responded. Two men on motorcycles followed the former governor, shouting at the crowd that formed around him. "F— that, this is his fault!" screamed one of the men. "Do you know who he is? Why would you shake his hand?"
While O'Malley is reportedly hoping to run to the left of Hillary Clinton, Politico notes that on crime he was "more Michael Bloomberg than Bill de Blasio." During his time as mayor O'Malley implemented a "zero tolerance" approach to policing and saw a dramatic reduction in crime. However, in 2010 the city paid $870,000 to settle a suit alleging that Baltimore police arrested thousands of people without probable cause during O'Malley's tenure.
Somehow, Clinton's comments on the riot were more well received, though she made them during a fund-raiser in New York on Tuesday, far from the protests. "Baltimore is burning," she told campaign donors. "The tragic death of another young African-American man, the injuries to police officers, the burning of peoples' homes and small businesses. We have to restore order and security. But then we have to take a hard look as to what we need to do to reform our system."