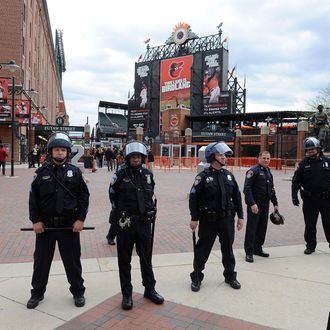 Police stand watch outside Oriole Park at Camden Yards before the game was postponed between the Baltimore Orioles and the Chicago White Sox.
Photo: Greg Fiume/Getty Images
The Baltimore Orioles' games at Camden Yards were canceled on Monday and Tuesday, but the team will finally be allowed to play again tomorrow. However, no one else will be allowed in the stadium. 
Because of the violence in Baltimore on Monday night, the team has decided to close Wednesday's game to the public. Soccer teams in Europe are sometimes forced to play in empty stadiums as a punishment for unruly fans, or because of fears of violence.
This isn't the first time a baseball team will play in a planned empty stadium. The Charleston Riverdogs, a Minor League team in South Carolina, did in 2002 — albeit for very different reasons. The "Nobody Night" promotion barred everyone except players, media, scouts, and staffers from the stadium, in an effort to break the record for the least attended game in professional baseball. When one of the players complained, the mastermind told him, "Remember what an empty park feels like. It's a great life lesson."