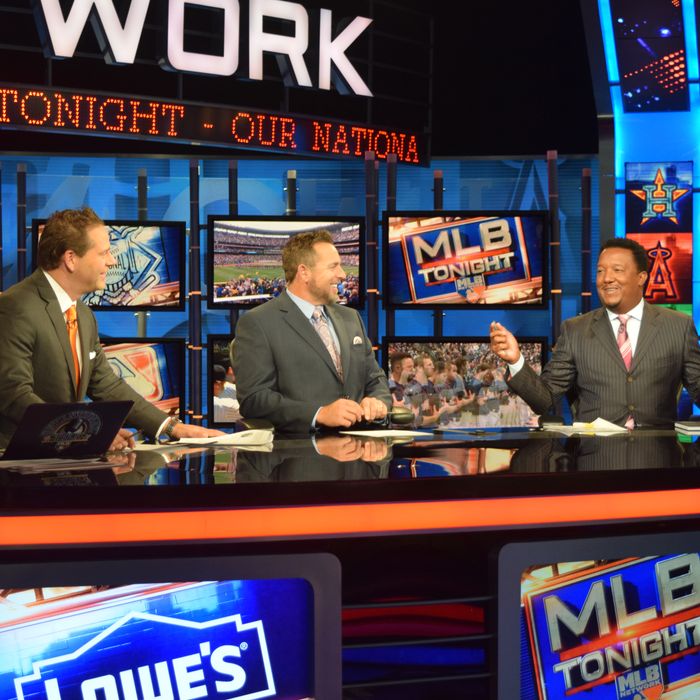 Pedro Martinez is retired, but not leaving the game behind.
Photo: Courtesy of MLB
Pedro Martinez is back on the mound. Never mind that the mound is in the middle of a Major League Baseball Network studio, that it's covered in artificial turf, that it's just 20 feet from home plate, and that the ball Martinez is holding in his right hand is a Wiffle ball. The first pitch he throws is a fastball, up and in, moving the batter back. The second pitch Martinez delivers dives low and toward the outside corner, an unhittable strike.
He's 43 years old, retired from the big leagues for five years, rounder in the belly. Yet Pedro Martinez is still nasty when he's on the rubber. And still highly entertaining when he isn't.
Now Martinez stands in the batter's box, gets a pitch from his former Red Sox teammate Kevin Millar, and crushes it high and hard toward left field, where it crashes into a TV studio light. Martinez cackles as he breaks into a home-run trot, which he turns into a precise imitation of Rickey Henderson's home-run trot, down to the choppy steps just before stepping on each base.
"Don't pimp me!" Millar yells, pretending to be a pitcher upset about a batter rubbing it in after a home run. Now it's Millar's turn for an imitation: He points to his right temple, mimicking the infamous gesture that the Yankees' Jorge Posada took to mean that Martinez was threatening to drill him in the head with a pitch.
Tonight it's all in harmless fun, though. Martinez is here in lovely Secaucus, New Jersey, preparing for his debut, three hours from now, as an MLB Tonight analyst. His elegant and savvy wife, Carolina, sits in the replica dugout, watching the middle-aged Martinez and Millar goof around with the joy of teenagers. She's amused but not surprised. "This is how it always is when they get together," she says.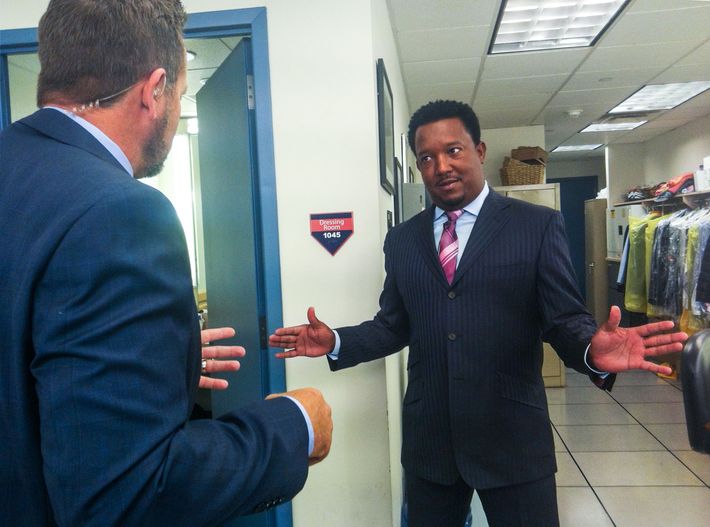 Martinez mostly lives in Miami. He's kept fairly busy. He's determined to be a good dad to his 13- and 14-year-old sons (they play baseball but Martinez won't let them pitch, because he well knows the physical wear-and-tear involved and because he fears they might be hit by a line drive). He's been writing an autobiography (Pedro, coming out May 5), doing some consulting for the Red Sox, and overseeing his charitable foundation. He's preparing his speech for his induction, this July, into baseball's Hall of Fame. He's been a pre- and postgame playoff analyst for Turner Sports.
But like most pro athletes — particularly those who've been lucky enough to enjoy a long career and those who've been gifted enough to become stars — Martinez has faced the disorienting separation from the game, the competition, and the routines that shaped life since he was a child. He says he's at peace with being in retirement. But he's still figuring out what to do with his time.
And with his baseball knowledge. Martinez's ability to throw a mid-'90s fastball, and his flair for confrontation, often overshadowed a nimble mind. "The game teaches you something every day," he says, looking appalled at the idea that many players find watching baseball boring. "I enjoy searching and finding things that aren't written in the rules, that nobody else sees."
What also made Martinez attractive to MLB Network's new president, Rob McGlarry, was his mischievous, free-spirited charisma. After the Wiffle ball session, Martinez cracks up some junior staffers by giving them his trademark double-index-finger pistol point. He reenacts a complicated foot-smacking, hand-slapping, hip-shaking Red Sox celebration ritual.
Inside a windowless conference room, there's a nightly planning meeting with MLB's producers. Millar is a natural comic. Chris Rose, the co-host of Intentional Talk, is whipsmart and sarcastic. But it's Martinez who lights up the room with detailed anecdotes and analysis. The only real advice the producers give him: "No cursing."
When Stephen Strasburg's name comes up, Martinez's face contorts in cartoonish horror at the awkward, injury-inducing mechanics the Washington Nationals pitcher uses, even after going through Tommy John surgery. Then Martinez talks about how he was home in Miami two nights ago, watching the Marlins game, and saw a fleeting overhead shot of pitcher Tom Koehler — and instantly spotted a flaw in Koehler's delivery that could wreck Koehler's elbow. The producers promise to find the video, and later the clip provides a vivid illustration for Martinez's on-air dissection.
The meeting ends, but Martinez is just getting warmed up. Fresh from the makeup chair, he tells me how, if he were still pitching, he'd immediately test the Marlins' Giancarlo Stanton, whose 2014 season ended when a fastball struck Stanton in the face, by throwing inside. "I have no mercy, and I don't expect anybody to have mercy on me," he says. "No pitches above the shoulders. That's dangerous. But you want to keep them honest."
The weirdest and most endearing stories, though, feature Manny Ramirez. "Remember the road trip when Manny told everyone to come to a party in my room, and he ordered all this food and Champagne?" Martinez says to Millar. Hours went by, everyone was having fun, but Ramirez never showed. Turned out he'd gone to another hotel room and fallen asleep.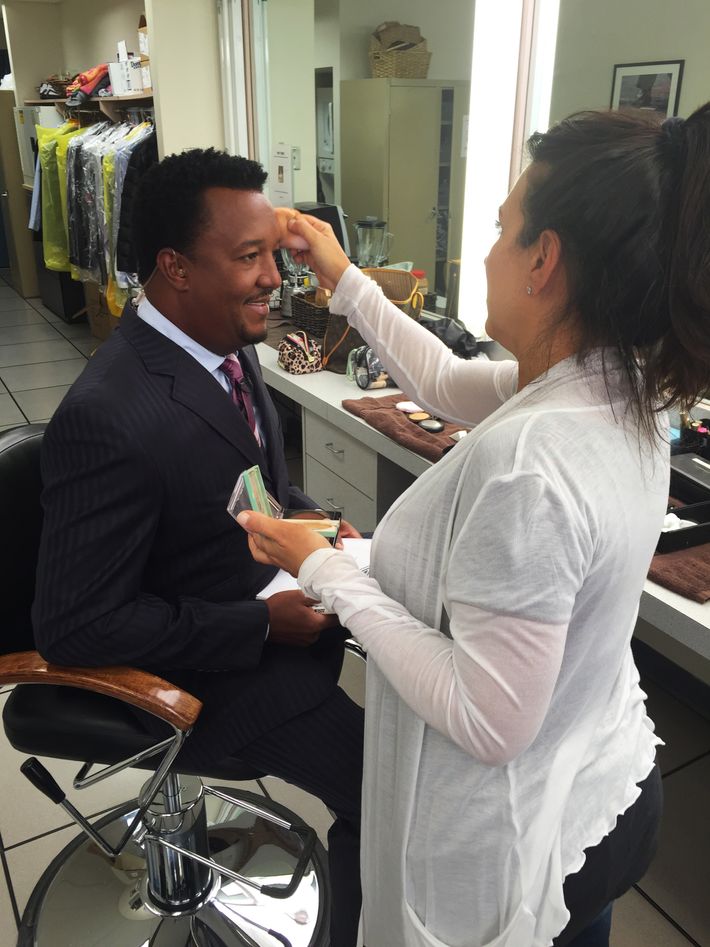 Speaking of the Red Sox: Martinez describes spotting a tearful David Ortiz one night in 2002, in a Santo Domingo restaurant. Ortiz had just been released by the Minnesota Twins. Martinez called Red Sox executives at 2:30 a.m. to insist that Boston sign the man who would become Big Papi. Martinez also says Boston manager Grady Little got too much blame for blowing the Red Sox' chances in the 2003 playoffs — and general manager Theo Epstein got too much credit for assembling the 2004 Red Sox' curse-breaking World Series–winning team.
The conversation turns to another former Martinez employer, the Mets. He believes the team pushed Matt Harvey too hard in 2013 and is partly to blame for Harvey's elbow injury.
"A lot of retired players have strong opinions, but they're too cautious or polite to spell them out on the air," MLB producer Chris Roenbeck says. "Not Pedro. He's fearless."
Particularly when it comes to dealing with his old nemesis, the Yankees. Martinez says he didn't hate them in his playing days — well, no more than any other team. "If my mother was wearing a helmet and holding a bat, I'd go after her," he says. But mention the 2003 brawl where he knocked 72-year-old Yankees coach Don Zimmer to the ground — unintentionally, he insists — and Martinez's eyes well up. "I don't regret anything else in my career."
Still, Martinez can't resist playing the Yankees antagonist. Last week he did a radio interview with Christopher Russo and bluntly predicted that Masahiro Tanaka, who has a partially torn elbow ligament, wouldn't make it through the 2015 season. Martinez didn't care that the Yankees right-hander claimed to feel fine — and his judgment seemed to be validated five days later, when Tanaka turned in a lousy opening-day start. "I've been in pain so many times, I can actually almost feel it when another pitcher is in pain, or is hesitant to commit to a pitch," Martinez tells me.
The melodrama takes another small turn Friday night. Martinez, Millar, and Rose will be on the field at Yankee Stadium doing a show before the Yankees take on the Red Sox. Does Martinez expect to be booed? "Of course," he says. "But in Boston, they booed Derek Jeter because he could beat the Red Sox. The Yankees fans don't boo because they hate me. It's respect."
It's time for him to change into a gray pin-striped suit and pink tie for his MLBN debut. The way Pedro Martinez smiles, though, you can tell he's already hearing the "Who's Your Daddy?" chants raining down in the Bronx, all the way from here in Secaucus.