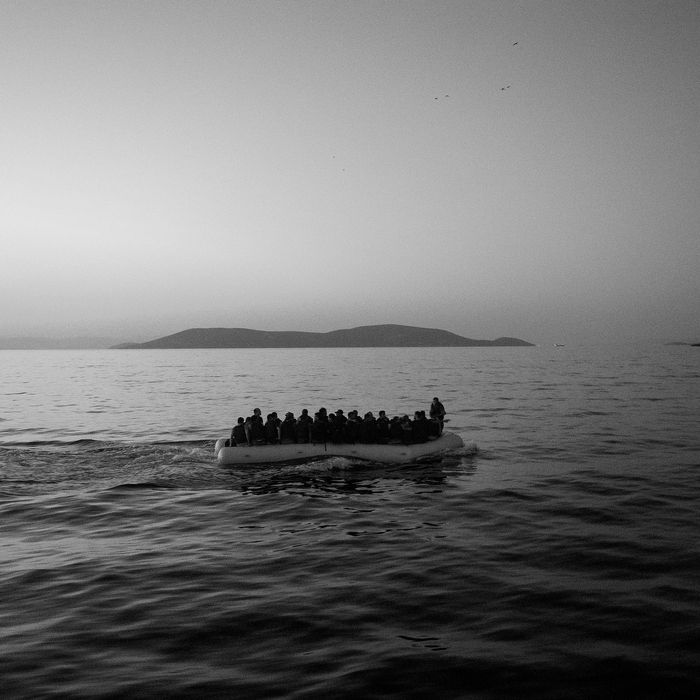 Syrian refugees float off the coast of Chios, a Greek island in the Aegean Sea.
Photo: Enri Canaj
Three people drowned — two adults and a child — and at least 90 were rescued when a migrant boat ran aground Monday on a reef off the shore of the Greek island of Rhodes. The deaths were mentioned as a small, sad footnote to the monstrous tragedy that is unfolding in the Mediterranean Sea, where as many as 850 migrants may have died trying to cross from the Libyan coast to Italy.
The ship that foundered off Rhodes was believed to hold mostly Syrian refugees, all trying to escape the brutal civil war in their homeland. The typical route takes them through Turkey and into Europe by sea, often under the most dangerous conditions. In 2014, 32,520 Syrian migrants reached Greek shores. More than 8,200 Syrians have made the journey since March of this year, nearly the number of Syrians who arrived in all of 2013.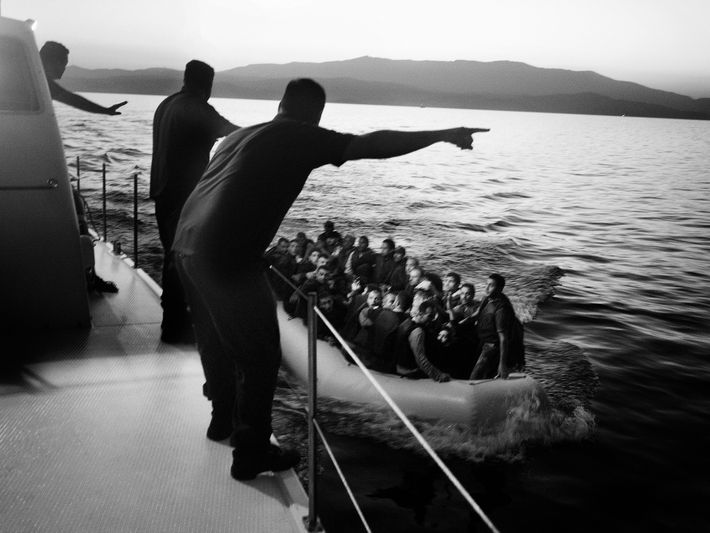 Photographer Enri Canaj has trained his lens on the refugees coming ashore on Greek islands. Starting with a ride-along with the Greek Coast Guard, Canaj captured a series of photos in September of last year. At around 5 a.m., he remembers seeing little flecks like ants on the ship's radar screen. It was a small boat, floating toward Chios, a hook-shaped island in the Aegean, a little more than four miles off the coast of Turkey. Then he heard screams. "People were shouting for help," Canaj said in an email. "But they were terrified to come near our boat."
The 49 Syrian refugees on the boat clearly lacked any experience at sea, but they still refused help from the Coast Guard. Canaj recalls a woman holding up a baby as a plea to the Coast Guard not to hurt them before the boat floated away and disappeared into the fog. 
The Coast Guard, with Canaj in tow, tracked the boat until it came ashore on an uninhabited island called Inousa. The authorities told the refugees that it was impossible for them to stay — there was no food, no water, no real shelter. The refugees let the Coast Guard take them to the port in Chios.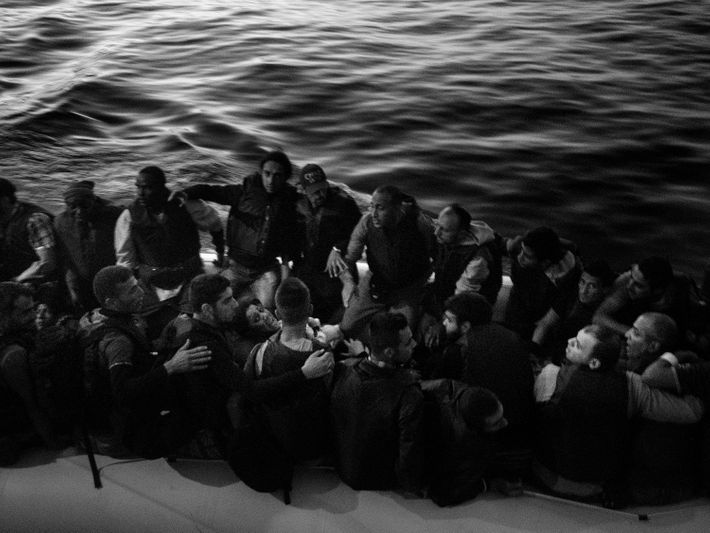 Canaj captured their first days in Chios, and went to other islands where migrants — mostly from Syria, but also from places such as Libya, Eritrea, and Somalia — had landed.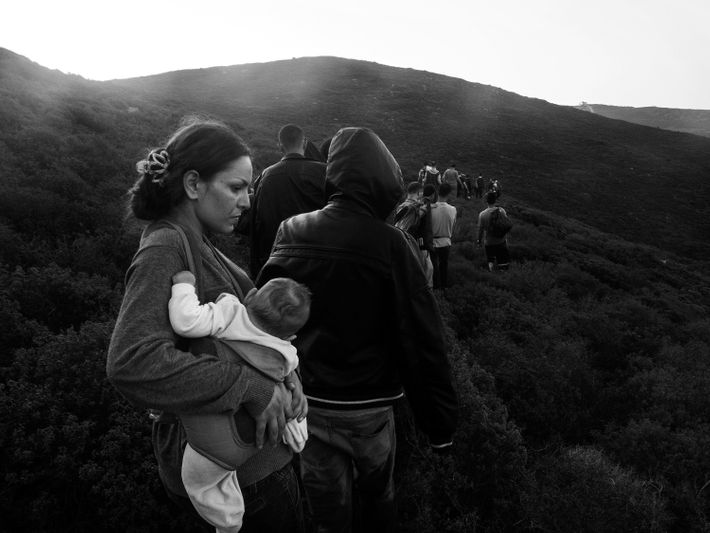 The photographer recalls witnessing a strength among the refugees that played out in small, quiet ways. After the 49 Syrians had been brought ashore in Chios, most ate and finally rested. But one little girl, who had been on the boat just that morning, went out to the beach. She wanted to go for a swim, and with her clothes and a life jacket on, she waded into the water.
"Life," Canaj said, "was still going on!"
Scroll below to see more photos of Canaj's "Syrian Refugees in Greece" series.