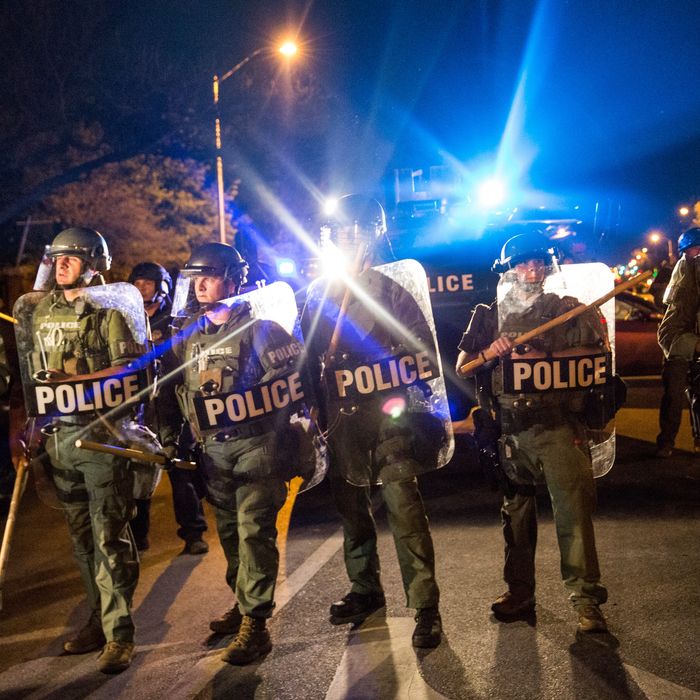 Riot police monitor protesters near a CVS pharmacy that was looted and burned by rioters on Monday, on April 29, 2015 in Baltimore, Maryland.
Photo: Andrew Burton/Getty Images
Here's the last thing Baltimore needs right now: On Wednesday night, as relatively calm protests over the death of Freddie Gray were taking place across the country, we learned of a police document that makes an outrageous claim about how he sustained a fatal spinal cord injury. The Washington Post reports that it's obtained an application for a search warrant that says the prisoner in the police van with Gray told investigators he heard Gray "banging against the walls" and believed he "was intentionally trying to injure himself."
Presumably the document was leaked by police, and it was handed over on the condition that the paper not publish the name of the 38-year-old man, who was arrested for violating a protective order and is still in jail. 
As the Post notes, we know the two prisoners were separated by a metal partition and could not see each other, so it's unclear how the man would have known that Gray wanted to hurt himself. Jason Downs, an attorney for the Gray family, said they question the accuracy of several police reports they've seen, and, "We disagree with any implication that Freddie Gray severed his own spinal cord."
Others questioned the report as well. On MSNBC's All In with Chris Hayes, WBAL reporter Jayne Miller confirmed that there is a police document that suggests Gray injured himself, but she said that account is inconsistent with her station's reporting. "We have reported for some time that by the time that prisoner is loaded into that van, Freddie Gray was unresponsive. Secondly we have no medical evidence that Freddie Gray suffered any injury that would indicate that he had injured himself," Miller said.
She added that the story also contradicts the account police have given reporters:
Meanwhile, a source said to be related to one of the officers who transported Gray gave a different version of events. In interviews on CNN and WBAL, the source says the officers driving the police van had no reason to give Gray a "rough ride" since they weren't on the scene when he was resisting arrest. (The source's identity is obscured differently in each interview, but their account is nearly identical.)
The source told Anderson Cooper that their relative, who is black, "believes that injuries were sustained outside of the paddy wagon, that if they go back and look at the GPS and everything that occurred as they were driving they can see how fast the driver was going they can see where the driver was."
In an interview with Don Lemon, the source suggested that they're coming forward because they don't want the officers driving the van to be blamed for the actions of the arresting officers. "Six officers did not injure this man," they said. "Six officers didn't put him in the hospital. I'm worried that instead of them figuring out who did that six officers are going to be punished behind something that one or two or even three officers may have done to Freddie Gray."
The police investigation into Gray's death is scheduled to be completed on May 1, at which point it will be up to State's Attorney Marilyn Mosby to decide whether to pursue criminal charges against the officers. However, city officials, church leaders, and Grey's family have been stressing that the public shouldn't expect answers on Friday. "Whatever time the state's attorney needs to make that determination, the family wants to get it right," said Baltimore mayor Stephanie Rawlings-Blake.