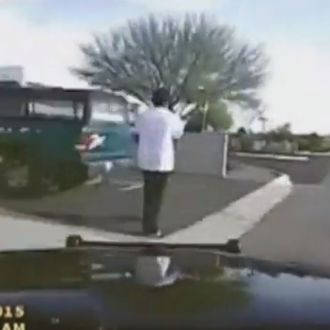 In February, the police department in Marana, Arizona, was trying to find the person who had allegedly robbed a 7-11, stole a car, broke into a church, and taken a gun and bullets from WalMart. At the time of the arrest in February, the Marana police justified the fact that the suspect, Mario Valencia, was apprehended after a police officer rammed him with his patrol vehicle by noting that "This was a dangerous felon who'd been on a crime spree throughout the morning."  
"He'd just stolen a weapon, loaded it, was not obeying commands from officers and was walking toward occupied businesses," Sergeant Chris Warren said at the time. "It's a busy time of morning, a lot of employees at work, a lot getting ready to come out for breaks, he's walking toward those businesses. So we had to take immediate action and make sure he didn't get inside those businesses."
More than a month later, after the police officer's actions were continually questioned, the department decided to release footage of the moment when Valencia was hit. 
"First time I saw the video, I said, 'Whoa! Holy crap!'" Police Chief Terry Rozema told Tuscon News Now.
Valencia's attorney, public defender Michelle Cohen Metzger, argues, "Everything in the video seems to point towards an obvious excessive use of force. It is miraculous that my client isn't dead. … "It isn't that dissimilar to a police officer shooting a fleeing suspect in the back." He was hospitalized for two days after his arrest, and is facing 15 charges.
Rozema told CNN, "This officer made a split-second decision, and in retrospect, when all the dust clears, I think we look at this and say, yeah, there's things we can learn from this. But the entire community is safe, all the officers are safe, and even the suspect in this case is safe."