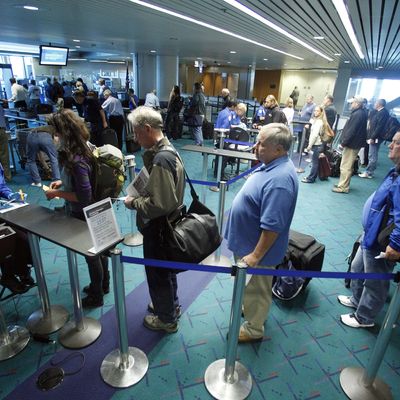 These people are probably not from Portland, given their nonchalance toward the treasure beneath them.
Photo: Rick Bowmer/AP/Corbis
No one was questioning Portland's love for its airport's grimy and tired carpet. When the city's residents learned that Portland International Airport would be replacing the 27-year-old teal carpet with something a little less Flatland meets David Bowie, they went into mourning. There are endless ways you can ensure you will never forget what the carpet looked like. People have gotten tattoos of the geometric design, or painted their nails PDX-style. You can buy beer, onesies, socks, T-shirts, helmets, tote bags, phone cases, and coasters inspired by the carpet.
You can stare at a Wall Street Journal stipple portrait of the carpet. You eat something called "PDX Carpet Poop." You can unpack a poem about the carpet. You can listen to a podcast about the carpet. You can read an explainer about the carpet. Hell, you can read two explainers about the carpet. If you're still starving for carpet content, you could read a third explainer. The airport will let a lucky few take some of the carpet home. 
However, this wasn't enough for the grieving people of Portland. So, they brought the carpet to life. 
Last month, the PDX carpet, now rolled-up and blessed with googly eyes, a baseball cap, and the name Peedee, served as the grand marshal of a parade. Someone with the Port of Portland told KGW, "This is very awesome. We are very honored. We get excited every time the community, or an individual, or people around the world find a way to celebrate and showcase our wonderful carpet." People took selfies with the now anthropomorphized carpet all day.
As the Associated Press wrote today, the airport hosted "PDX Carpet Day" in March. At the event, people took more than 800 photos with the carpet. You can find more than 40,000 "foot selfies" on Instagram with the PDX carpet as the backdrop. One Portland resident told the AP, "I guess this carpet is really iconic, and I can't imagine another city getting this worked up over carpet."
We assume that by the time the carpet has finally been completely removed from the airport at the end of the year it will have been elected mayor, imposed martial law, and then completely covered the streets of Portland with the city's most precious resource.