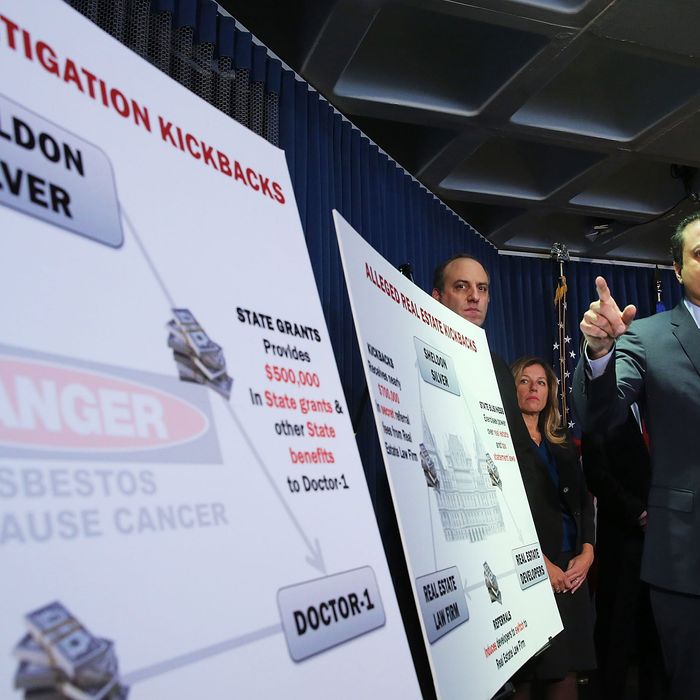 Who's next?
Photo: Spencer Platt/Getty Images
Is this what Preet Bharara meant by "stay tuned"?
Back in January, at a press conference detailing charges against Democratic State Assembly Speaker Shelly Silver, the crusading United States Attorney teased reporters with those words, an unmissable hint that more big corruption cases were in his pipeline. And last night, the Times broke another bombshell Albany scandal story: That Bharara appears to be pursuing an indictment of Dean Skelos, the Republican majority leader of the state Senate.
Skelos was always the more social of the two longtime legislative bosses. So it's fitting, in a sense, that his pending troubles are said to involve his son, Adam. Skelos the younger worked for an Arizona company that makes spongelike filters that remove pollutants from storm water. According to the Times, Bharara has impaneled a grand jury to hear allegations that Adam Skelos helped the company soak up a Nassau County contract worth as much as $12 million, possibly gaining an edge in the bidding from his father's lofty position in state government.
How the dots connect, or if they connect at all, isn't clear. There are important distinctions between insider connections and illegal influence. No charges have been filed against any Skelos. But the new flurry of subpoenas and testimony has started wheels turning in Albany: If Dean Skelos is indicted, will he lose his post atop the senate?
Silver was essentially ousted as speaker six days after he was arrested. Skelos, if he needs to try to avoid the same fate, has a couple of things working in his favor. The first is that while Silver's appearance in handcuffs was deeply damaging, it came after he'd been boss for nearly 21 years. His Democratic Assembly caucus, particularly the younger members, were already restive, complaining that Silver had overstayed his welcome. Skelos only took the Republican reins in 2008, after Joe Bruno resigned while under investigation by the FBI.
Skelos also commands a smaller and more cohesive tribe than Silver did: Thirty-two state Senate Republicans, as opposed to the 103 Assembly Democrats whom Silver had to wrangle. Many of those Republican members, particularly the eight fellow Long Islanders, are seemingly loyal to Skelos. Still, the speculation game has started. If Skelos were to step aside, either temporarily to fight any changes or permanently if the charges turn out to be severe, the top contenders to replace him could be Syracuse's John DeFrancisco and Suffolk County's John Flanagan.
Bharara was recently admonished by a federal judge for hyping unproven charges against Silver. So it will be interesting to see whether any Skelos indictment is unveiled with less fanfare. Style questions aside, though, Bharara doesn't seem to be letting up on his quest to shake up Albany. The prosecutor shifted into high gear last April after Governor Andrew Cuomo unplugged the Moreland Commission, which Cuomo had empaneled to probe the role of money in state government and to pressure the legislature into passing tighter ethics rules. "This is what Cuomo loosed on the world," a state Senate operative grumbles.
The governor got some new ethics laws out of his Moreland maneuvers. But the aftermath may be more than Cuomo bargained for. With Silver toppled and Skelos under investigation, Albany is tuned in, wondering if Bharara will go after the third man in the room next.