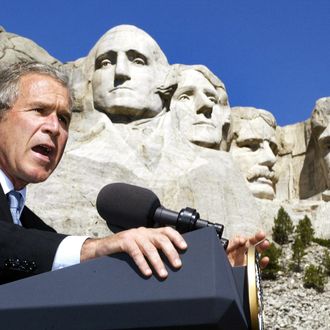 Photo: Paul J. Richards/AFP/Getty Images
On Monday, President Obama talked with KSFY in South Dakota, and the reporter interviewing him brought up an unfortunate truth. "Let's talk … so you've been to every state but South Dakota. Are you going to come visit us?" 
She added that Obama had visited the state while he was campaigning, but hadn't yet made a return visit. 
"The good news is … May 8th," Obama said, bringing South Dakota to the edge of its seat, "I'm making news here with you. May 8th we're coming. I'm going to deliver a commencement in Watertown at a community college there. So … I can't let my South Dakota friends feel neglected."
Daily Intel spoke to Jim Hagen, South Dakota's secretary of tourism, two weeks ago about the state's status as the only state that had gone unvisited by the president. In 2013, Hagen sent the White House a letter, inviting the president to stop by. He had no doubt that Obama would one day come. "I am absolutely convinced he is saving the best for last," he said.
Obama will become the fourth president to visit all 50 states — Ronald Reagan, Bill Clinton, and George H.W. Bush also completed U.S. road trips during their presidency. George W. Bush visited all of the states except Vermont.
The KSFY reporter asked Obama if he'd be able to stop by Mount Rushmore, which celebrates its 75th anniversary this year. He wasn't sure. "But I think by May 8th," he added, "finally there should be spring in South Dakota if I'm not mistaken."