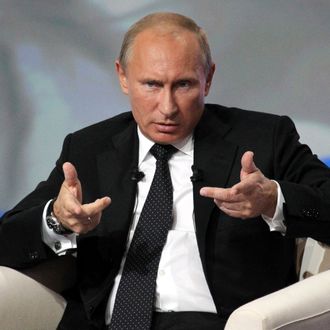 Vladimir Putin.
Photo: Sasha Mordovets/Getty Images
Vladimir Putin took part in his annual call-in TV show on Thursday, and fielded nearly four hours' worth of questions from Russians hoping that the president could solve their problems. Many of the questions — Putin answered 55, although a record-breaking 3 million were submitted — were serious, and dealt with the deal with Iran, Ukraine, and the economy. However, the president also had to answer a few odd questions, which were no doubt as carefully chosen as all the policy questions of the marathon interview. 
One 4-year-old boy asked, "Is it difficult being a president? How many hours a day do you sleep?" Putin replied, "You'll manage. And if you like to sleep, you'll make a healthy president."
One woman was asking advice for her friend, who wanted a dog even though her husband didn't. Putin did not give the most empowering advice. "She can say, 'I don't need a dog, I'll do as you say, dear husband.' And I'm sure after that he'll present her an elephant as a gift … and maybe a fur coat."
Another man had a tip for Putin — invite more international leaders to the sauna. Putin explained why he stopped taking leaders to the relaxing spot after German Chancellor Gerhard Schröder visited.
"A true story. He was having some beer and I told him, 'Get out, we have to leave urgently because the sauna is on fire.' He said, 'Let me finish my beer first.' I said, 'You're crazy! The building is on fire!' But he did finish his beer first. He's this kind of man … and it burned to the ground."
Putin told another listener that he did not want to be cloned, and asked an English farmer whether he came to Russia to find women. 
He did not have much nice to say about the United States, once comparing the country to the Soviet Union. "The Americans are behaving roughly in the same way now, trying to impose their model around the world, and they, too, will fail."