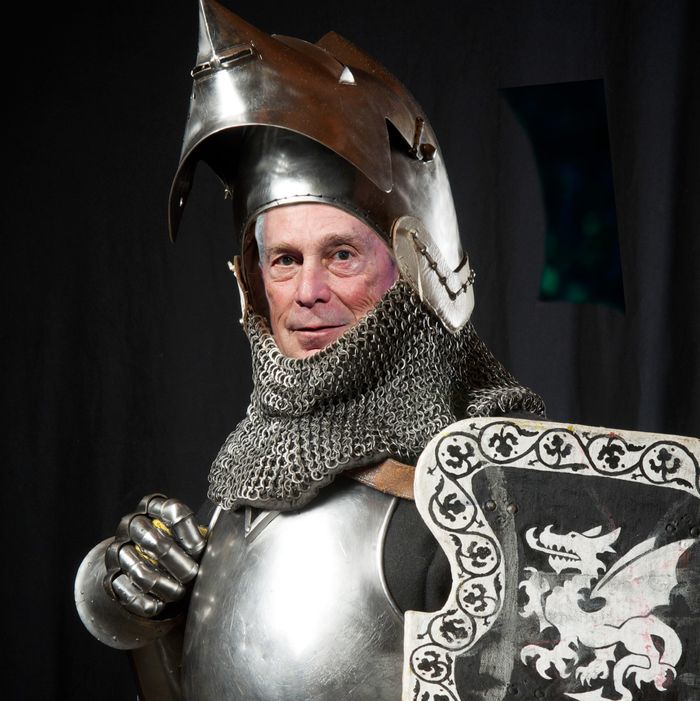 Bloomberg. Michael Bloomberg.
Photo: Aaron Ansarov/Getty Images, Brian Ach/Getty Images
It's now official. The Queen announced last October that she would make Michael Bloomberg an Honorary Knight of the Most Excellent Order of the British Empire, and yesterday, the ceremony finally happened at the British ambassador's residence in Washington.
Colin Powell — also a knight — Vice-President Joe Biden — not a knight — and Tina Brown were there to cheer on the former mayor of New York City. In case the event wasn't memorable enough, Biden topped it off by delivering a toast.
Bloomberg, who helped found the Tate Modern and has two British children, said he had "always admired the sophistication and fortitude of the British people" and thought "that this event will also be the most exciting story in the British press this month, but I'll settle for second place behind the royal baby."
He also had a pretty egregious humblebrag.
Now, back in New York, a friend of mine was reminding me: This is only an honorary knighthood — and it does not, in fact, make me either a knight or a commander … nor does it come with the title "Sir." I said, "Thank you, Sir Paul McCartney."
Since the ceremony was in D.C., Bloomberg wasn't able to escape without answering a few questions about politics. When asked about the ever-expanding pool of presidential candidates, he replied, "Hillary and Jeb are the only two who know how to make the trains run."
And when asked about his rumored plans to sample mayoral duties around the globe, starting in London, he heartlessly crushed the gossip: "Zero chance, zero interest."