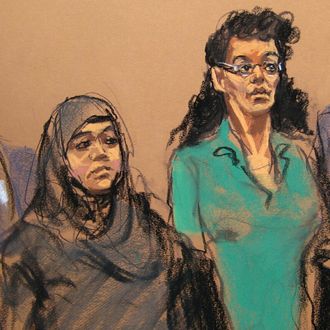 Velentzas left and Siddiqui right in court on Thursday.
Photo: Jane Rosenberg/AP/Corbis
Two women in Queens were arrested by federal authorities yesterday on charges of allegedly planning an ISIS-influenced bomb plot. Known by family and friends as "very honest and very sincere" and "good religious people," 28-year-old Noelle Velentzas and 31-year-old Asia Siddiqui reportedly became radicalized and emboldened to build a homemade bomb after Siddiqui became online friends with one of the editors of Inspire, al-Qaeda in the Arabian Peninsula's (AQAP) English-language propaganda magazine.
In a complaint unsealed in Federal District Court in Brooklyn on Thursday, details about the duo's alleged ISIS-inspired plot emerged through the testimony of an undercover officer who had been in repeated contact with the women. In the complaint, the officer states that the two espouse "violent jihadist beliefs," and had purchased propane tanks and MiracleGro fertilizer in a supposed attempt to create a homemade bomb to be used in a terrorist attack in the United States. The two allegedly studied "science" as well as materials laid out in The Anarchist Cookbook so that they would have the skills to construct the bomb. 
According to the Times, when cops arrested the women in their apartment on Thursday, they found "three propane gas tanks, soldering tools, pipes, a pressure cooker, fertilizer, flux, detailed handwritten notes on the recipes for bomb making, and extensive jihadist literature."
Other allegations against the women include:
Velentzas glorified 9/11 and stated that "being a martyr through a suicide attack guarantees entrance to

 

heaven."
She said Osama Bin Laden was her "hero" and used a photo of him holding an

AK

-47 as her cellphone

 

background.
She said she had received a pressure cooker as a gift, and had been researching them since the Boston Marathon

 

bombings.
She pulled a knife from her bra and simulated stabbing someone before saying, "Why can't we be some real bad

 

bitches?"
Sidiqqui befriended several members of

ADAP

over the internet, including one who went on to become the editor of Inspire.
She wrote a poem for the Inspire predecessor Jihad Recollections, which "calls for its readers to engage in violent jihad and destroy enemies of Islam. You can read the poem here.
The women were arraigned on Thursday and charged with conspiring to use a weapon of mass destruction for a terrorist attack on U.S. soil.