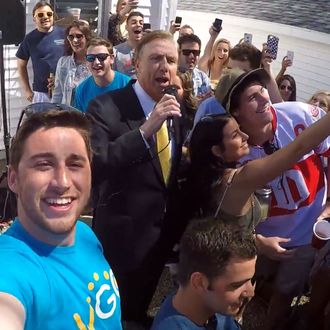 Quinnipiac president John L. Lahey is chill as hell. You want to know how we know he's chill as hell? Because he recently showed up to an off-campus party, grabbed the mic, and encouraged the day-drinking students to continue on with their binging.
After joking that he should "buy all these houses," Lahey pointed out that this is exactly the type of party he tried to ban 15 years ago, but — oops! — clearly it didn't work. He then told them, "I love you all! Have a great weekend. Be safe," before students erupted into chants of his name.
No one really knows why Lahey decided to grace the party with his besuited presence, but neighbors who live nearby the cacophonous venue were decidedly unimpressed with the move. "That he participated as a de facto partner by attending and celebrating in a residential neighborhood under circumstances that have been facing the town and the university for years shows an unfortunate and disappointing arrogance on the part of the university," one woman told the New Haven Register.
Worse than the president disrespecting the neighborhood is that he overtly sanctioned bro behavior, an offense that should, frankly, be fireable.