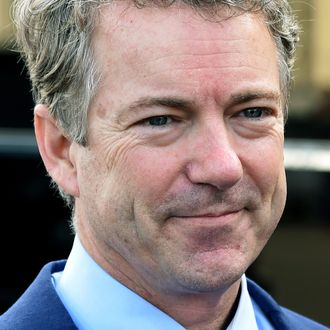 Rand Paul.
Photo: Ethan Miller/Getty Images
Rand Paul announced his candidacy for president yesterday, inaugurating the event with random branded tchotchkes like the Rand Paul NSA Spy Cam Blocker. But if his appearance on the Today show this morning is any indication, it's going to be a loooooong campaign season.
Paul appeared via satellite for an interview with Today show co-anchor Savannah Guthrie, and it did … not go well. When Guthrie attempted to ask him about how and why he's changed his position on several key policy issues, Paul distracted from the question by mansplaining to her how to do her job.
"Before we go through a litany of things you say I've changed on, why don't you ask me a question, 'Have I changed my opinion?'" he said. "That would be a better way to approach an interview."
"Is Iran still a threat?" Guthrie responded, politely capitulating to Paul's vision of how the interview should go.
"No, no, no, no, no, no, no, no. Listen, you've editorialized," he responded. "Let me answer a question. You ask a question, and you say, 'Have your views changed?' instead of editorializing and saying my views have changed."
Rand Paul: 2016 presidential candidate, and condescending, mansplain-y journalism professor.