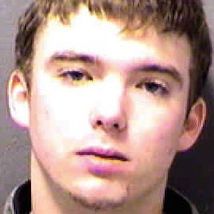 William Paul
Photo: Mecklenburg County Sheriff's Office
Rand Paul's 22-year-old son William was cited for drunk driving on Sunday after police found him in the driver's seat of a car that had crashed into a parked vehicle. Paul was "belligerent" and appeared intoxicated with "bloodshot, watery eyes." The car he was driving didn't belong to him and wasn't insured.
After being taken to the hospital for facial scratches, Paul, of course, declined a Breathalyzer test but reportedly failed his field sobriety test. He was cited for operating a vehicle under the influence and failure to maintain insurance. 
William Paul is actually quite familiar with receiving citations: He's previously been charged with underage drinking, simple assault, and disruptive conduct. We assume Paul will be subjected to the same punishment he was in these previous cases: having to listen to his dad lecture him about why the police didn't have the right to search him in the first place.