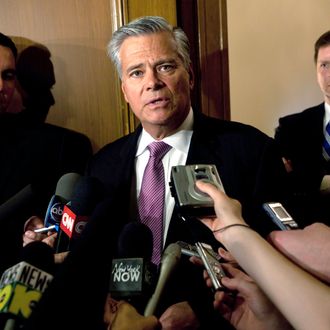 Dean Skelos in 2011.
Photo: Matthew Cavanaugh/2011 Getty Images
The arrest of New York State Assembly speaker Sheldon Silver on federal corruption charges earlier this year, and his subsequent resignation as speaker, sent shock waves through Albany — and apparently U.S. Attorney Preet Bharara was just getting started. The New York Times reports that federal prosecutors are presenting evidence to a grand jury in a case involving Dean Skelos, leader of the New York State Senate, and the Long Island senator's son, Adam Skelos. In January, Bharara bashed the political culture in Albany, saying that if the charges against Silver stick, "then at least one of the proverbial three men in a room is deeply compromised." If Skelos is "compromised" as well, Albany will be plunged even deeper into chaos.
According to the Times, the probe focuses on a $20,000 signing bonus Adam Skelos, 32, received from a title insurance firm he never worked for, and why AbTech Industries hired him as a consultant. AbTech, which is based in Arizona, was awarded a storm-water-treatment contract by Nassau County, where his father's district is located, though it was not the lowest bidder. Adam Skelos had several meetings with Nassau Department of Public Works officials about AbTech, and county officials said they selected the company for the project because it would provide the best value. The company with the lowest bid, Newport Engineering, found the process odd. They say they were never notified that the county had received their bid, or that the contract had been awarded.
Sources familiar with the probe said investigators are looking with whether Senator Skelos tried to influence the process, which may violate corruption laws, but both he and his son have yet to be accused of any wrongdoing.
When approached by the Times, Adam Skelos said, "I had no idea that this was even an issue," adding, "I got to tell you, this is really unexpected." After the story broke, he directed media inquiries to his attorney. Senator Skelos had not commented on the matter.
In January, one week after Silver's arrest, WNBC New York reported that Bharara's office was looking into Skelos's ties to the real-estate industry and outside sources of income (which has been a contentious issue for many Albany lawmakers). At the time, his spokeswoman responded, "Last night's thinly sourced report by WNBC is irresponsible and does not meet the standards of serious journalism."
Skelos has served in the Senate since 1984, and he became the Republican leader in 2008 following the resignation of Joe Bruno. As The Journal News notes, the Senate leadership has been plagued by scandal in recent years. After being tried twice on federal corruption charges, Bruno was acquitted last year. Things were even worse for former Democratic Senate leaders. Malcolm Smith was recently convicted of federal bribery, extortion, and wire fraud as part of a scheme to get on the 2013 New York City mayoral ballot, and Pedro Espada Jr. is currently serving a five-year sentence for tax fraud.
At a certain point it's going to be easier to list Albany lawmakers who aren't being investigated for corruption.