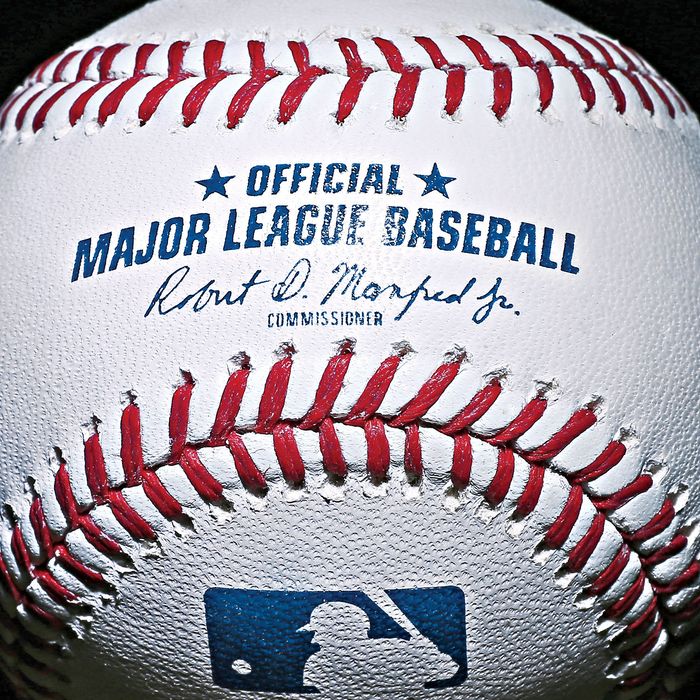 If Rob Manfred lasts half as long as Bud Selig did, he'll be the commissioner until 2027. What's that going to look like?
Photo: Tom Szczerbowski/Getty Images
On the first day of his new job as commissioner of Major League Baseball — literally hours after he took over from Bud Selig, the man who had held the post for 23 years — Rob Manfred started freaking people out. The source of the discord was an interview he gave to ESPN in which he said he would be "open" to eliminating defensive shifts, the innovative strategy teams have deployed in recent years. (Essentially, moving everyone to the right or left side of the infield against a pull hitter, that sort of thing.) 
ESPN analyst Dan Szymborski called the idea of banning shifts "monumentally stupid." Baseball Prospectus co-founder Joe Sheehan sniffed that Manfred was "misdiagnosing problems 12 hours in." I myself was wondering how such a ban would even work: Would the players all wear shock collars that would zap them if they moved too far away from their assigned positions? It felt like a strangely tone-deaf thing for a new commissioner to say on day one, particularly when he'd taken over for Selig, a man so retrograde and old school that he boasted about not even having an email account. Baseball is going through a defensive revolution, with new intelligence and research changing the game, and the new guy, the one who was supposed to be younger and more in touch with current culture and The Way the Game Is Played Now, wants to ban the most significant on-field innovation of the last decade? The paint wasn't dry on the front door of his office, and the baseball world was already furious.
What was most fascinating was what happened next: Manfred dropped it and then … totally moved on. He discussed the possibility of Pete Rose's ban being lifted, and then it was off to the pace of the game, MLB's corporate structure, shortening the season by eight games, a truly international draft, a return to Montreal, and day games in the World Series. The first weeks of Manfred's reign were a blizzard of barroom hypotheticals about the very structure of the game, an open discussion of remodeling it from the bottom up. Manfred is about to begin only his first season with his name printed on all the baseballs; if he lasts half as long as Selig did, he'll be the commissioner of baseball until 2027. So what's that going to look like?
This year, at least, it's going to look like an especially fascinating season. By adding Max Scherzer to an already dominant rotation, the Washington Nationals have geared themselves up to be a potential 100-win team, which might not mean a whit come the post­season (as it didn't last year, when the Nats were one of the best teams in baseball). One of the biggest contracts of all time was just signed by … the Miami Marlins? That means that the first truly fearsome power hitter of the post-steroid era, Giancarlo Stanton, will be playing for a quasi-minor-league franchise for the next dozen years. The most exciting young team in baseball might be the Chicago Cubs, the one franchise for whom a World Series would actually knock the NFL out of the headlines. Alex Rodriguez is back, probably to more cheers than you suspect. Heck, even the Mets might be sorta good this year.
But the next decade or so probably will have more to do with the new commissioner than whoever is running the Mets' or Yankees' front office. Manfred came by the job like all sports commissioners come by their jobs these days: by working his way up through the system for decades — a former labor lawyer, Manfred has worked within MLB for 17 years, recently as the head of the Biogenesis investigation and Selig's right-hand man. The days when a commish was hired simply because he was wise and loved the sport are long gone; it's a CEO position now.
To hear it from the outside, Manfred is entering a thankless job, particularly in today's current NFL-and-television-­ratings-obsessed environment. The general perception is that baseball is fading, an old man's game ignored by kids today, with their faces in their phones and their hands in their pants. But one could argue that MLB commissioner is the easiest job in sports right now. Teams are minting money, not just from television contracts but also from unprecedented revenue from within the league itself, thanks in large part to the MLB Advanced Media arm, which has had such success streaming live video for non-MLB events (like the NCAA tournament, the Watch ESPN app, the WWE network, and HBO's latest venture) that it is likely to be spun off as its own, pure-technology company. More people globally — and here in the United States, especially Latinos — are watching baseball than at any other time in history.
But for all the sentimental nostalgia for an unchanging sport, baseball is always in need of tinkering. Even Selig, who is essentially a conservative, made some profound, radical changes in the game: wild cards, interleague play, expanded playoffs, a shockingly high percentage of teams with new stadiums. (Some even think the balls were juiced — and some scientific studies actually suggest they were!)
Manfred, his successor, has already proposed a change to baseball that would have been inconceivable as recently as a year ago: He's considering putting in a pitch clock. It would be a major departure, to say the least; baseball is a sport that long prided itself on having no such monstrosity near its diamonds. Clocks are for philistines. Baseball is an eternal sport: Baseball can go on forever.
Which is, you know, sort of a reason to put in a clock. But it's in the implementation of that clock that we can see what a Manfred Doctrine might look like in the years going forward. Purists, when talk of a clock came up, drew dire pictures of a monstrous Rock n Jock baseball wasteland, with flashing neon digits lighting up and a booming, Vader-like voice counting down the seconds until a pitcher, with no time to think, sprinted to the mound and flung the ball wherever. But the clock turned out to be as minor and modest an addition as possible: If you aren't specifically looking for it, you'll never even notice it. And it's probably going to work, shortening games by at least five minutes.
The clock is probably just the beginning. Save for a minor protest from a few owners when he was elected — widely seen as White Sox owner Jerry Reinsdorf's being petulant for the sake of petulance — Manfred has the owners unified in a fashion similar to Selig. This should allow him to get to work on some of baseball's other lingering problems, most notably its decreasing influence among millennials. Manfred focused on this on his first day, too, telling the Times' Tyler Kepner that "you can enhance and provide real fans with information via technology that makes the game move faster and keeps people engaged during the game, without distracting from what's the core, what's out there on the field." Manfred means using baseball's supposed disadvantage — downtime — to its advantage, or, to put it bluntly, this is the sport where you're least likely to miss something if you're looking at your phone. MLB has expanded its use of instant replay and its fielding technology called Statcast, which allows fans (and general managers evaluating talent) to understand precisely what's happening on the field in a way they haven't before. MLB has also ramped up wireless in stadiums for this very purpose; nothing turns millennials — or, increasingly, baby-boomers — away faster than telling them their phones won't work for three hours.
How's this different from Selig? It's an admission that the game needs to be more nimble, lighter on its feet. For years, making a change in baseball has felt like turning an ocean liner around: Selig made a ton of changes, but only because he was in office so long. Manfred is already working to make the game more dynamic … and, perhaps, a little less self-serious.
*This article appears in the April 6, 2015 issue of New York Magazine.