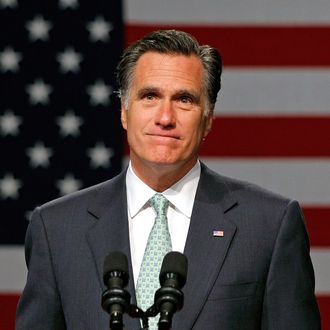 Mitt Romney.
Photo: Bill Pugliano/Getty Images
If you thought being falsely accused by Harry Reid of failing to pay income tax for an entire decade would make Mitt Romney more sensitive to the plight of fellow presidential candidates, you don't know Mitt. Thursday on Hugh Hewitt's radio show, Romney offered a lengthy analysis of the New York Times report on the Clinton Foundation accepting donations from the CEO of a Canadian company selling an American uranium mine to Russia's state nuclear agency in a deal that required State Department approval. "You know, I've got to tell you, I was stunned by it," Romney said. "I mean, it looks like bribery. I mean, there is every appearance that Hillary Clinton was bribed to grease the sale of, what, 20 percent of America's uranium production to Russia, and then it was covered up by lying about a meeting at her home with the principals, and by erasing emails."
Okay, so far there's not enough evidence to prove that, but … bribery! "I presume we might know for sure whether there was or was not bribery if she hadn't wiped out thousands of emails," Romney added. "But this is a very, very serious series of facts, and it looks like bribery."
Certainly, recent reports confirm that the Clintons show a "lack of interest in policing serious conflict-of-interest problems," as New York's Jonathan Chait put it, but the Clinton campaign has pointed out that there were five other cabinet secretaries on the committee that approved the deal, and a former State Department official has said Clinton wasn't even personally involved in the review. Asked to comment on that defense, Romney said, "Well, it's blah, blah, blah."

Recently, Reid offered an appalling explantion for why he pushed the income tax smear, saying, "Romney didn't win, did he?" Maybe Romney learned something after all.