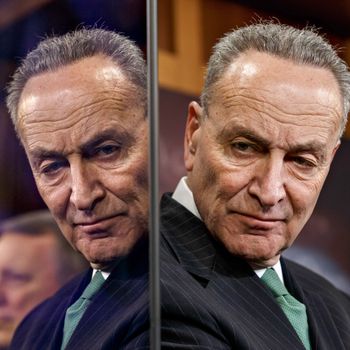 Sen. Charles Schumer, D-N.Y., is reflected in a TV monitor during a news conference at the Capitol in Washington.
Photo: J. Scott Applewhite/AP/Corbis
At the age of 64, after 34 years in Congress, Chuck Schumer is a very well-known quantity: He's indefatigable, a voluble champion of middle class political values, a supple dealmaker, and a voracious Wall Street fund-raiser. Chuck won't change, even when he replaces Harry Reid as leader of the U.S. Senate Democrats in January, 2017. What could change dramatically, though, is the context in which Schumer does the job.
The first crucial uncertainty is just what Schumer ends up leading: A majority or a minority. And New York's senior senator, true to form, isn't waiting around to see what happens in November 2016, especially after last year's midterms, in which the Republicans picked up nine seats and made Mitch McConnell majority leader.
Schumer headed the Democrat's victorious effort to take control of the Senate in 2006, and he expanded the Dems' majority in 2008. His approach was relentless and hands-on. While on a family vacation he learned that Claire McCaskill was also visiting London with her family. Schumer was trying to persuade her to run for a Senate seat in Missouri, so he tracked her down and arranged dinner to continuing the coaxing. "Chuck is by far the Democrats' best recruiter of candidates," a Democratic strategist says.
Montana senator Jon Tester is in charge of the Democratic Senatorial Campaign Committee for 2016, but Schumer has been meeting regularly with the DSCC's top staff to review plans. He sat down with Tammy Duckworth, part of the successful push to get the Illinois congresswoman to challenge Mark Kirk; he's encouraging Russ Feingold to make a comeback in Wisconsin. In Pennsylvania, Schumer has been actively seeking an alternative to Joe Sestak, who narrowly lost to Pat Toomey in 2010 and is running again next year.
Schumer will have far less influence, though, when it comes to the second enormous factor that will shape his political future: Who wins the White House in 2016. If the next president is, say, Jeb Bush or Scott Walker or Marco Rubio, Schumer's role is in many ways simpler and easier: He's the leader of the opposition, choosing which battles to fight with the Republican chief executive and where to find compromises. "We'll watch and wait, but we don't start off hostile to Chuck," a high-ranking Republican senate staffer says. "We know who he is and how he operates."
If the Democrats win the presidential contest, it's more likely that Schumer sits atop a narrow Democratic majority in the Senate, and his mission becomes advancing the president's legislative agenda. Everybody's happy, full speed ahead, right? Perhaps. But unifying a caucus that runs from Vermont socialist Bernie Sanders to West Virginia gun enthusiast Joe Manchin would test Schumer's diplomatic talents as never before.
The relationship between President Hillary and Majority Leader Chuck might also be a little…complicated. The two were productive but uneasy partners for eight years when they were merely New York senators together. "There was not a lot of trust there, but that was a time when Chuck was micro-focused on his New York role," a well-connected former Democratic lobbyist says. "He's a lot less linear than he was ten years ago."
Come 2017, Clinton and Schumer could both be operating on a much bigger stage, for much higher stakes. "At times it will work swimmingly. And at times they will consider one another the biggest thorn in the other's side," a Democrat who has worked closely with both says. "The real issue will be that you won't know which one is happening. It would be a helluva lot of fun to watch."