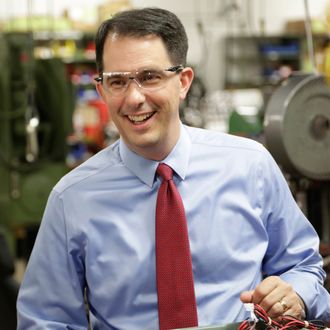 "Check out my blue shirt!"
Photo: Darren Hauck/AP/Corbis
Kohl's spokesman Scott Walker is taking his dedication to the folksy, blue-collar-presidential-candidate trope extremely literally. In a speech in New Hampshire this weekend, Walker made overt references to his blue shirt, called voters "folks," and again addressed his love for the discount clothing retailer Kohl's, which he gave a $62.5 million state incentive package to in 2012.
According to the Washington Post:
Pointing to his rolled-up blue sleeves, Walker said he has been buying "shirts like this" for decades and that he is a devoted fan of Harley-Davidson motorcycles, which he plans to ride through New Hampshire's 10 counties.
He also made a pointed jab at Hillary Clinton, remarking that she's probably never shopped at Kohl's. One man's dis is another man's compliment.