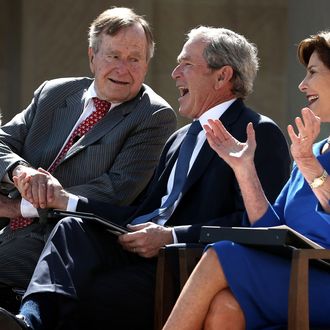 Photo: Alex Wong/Getty Images
The Washington Post reported today that it took the Secret Service more than a year to fix President George H.W. Bush's 20-year-old alarm system in Houston, which stopped working in September 2013. The system wasn't replaced until the end of 2014. The Secret Service added another agent to the former president's detail during the wait, and no known security breaches occurred.
Joseph Clancy, the new Secret Service director, has tasked the agency with giving a checkup to all the people under the Secret Service's watch to make sure no other glaring technological deficits exist. Representatives Jason Chaffetz and Elijah Cummings, the two leading lawmakers on the House Oversight Committee, released a statement noting that "this adds to the growing list of significant concerns Congress has had with the management of the Secret Service." Given the number of times the House Oversight Committee has prepared statements reacting to unattractive news about the Secret Service, there probably is a Secret Service statement template featuring that sentence.
Bush, however, doesn't appear to be too worried. He sent a tweet conveying his unshaken faith in the agency.