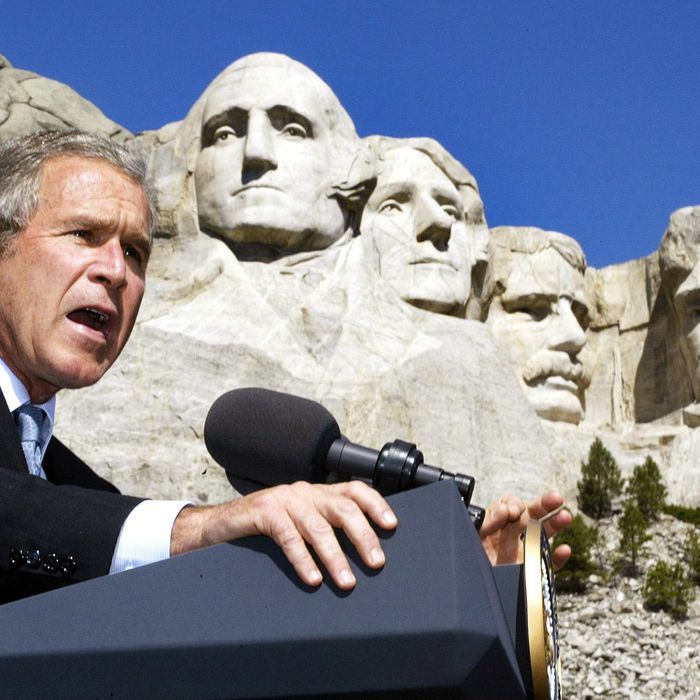 Immortalized presidents watch a presidential speech and remember how awful their job was.
Photo: Paul J. Richards/AFP/Getty Images
After Obama visits Utah on Friday, South Dakota will be the only state he hasn't visited during his presidency. He stopped at Mount Rushmore during his 2008 campaign and was asked if he could picture himself up there. "I don't think my ears would fit. There's just only so much rock up there." After that visit, the state twice awarded its three electoral votes to his opponent, and the president hasn't had time to go back.
"I am absolutely convinced he is saving the best for last," says Jim Hagen, South Dakota's secretary of tourism, before listing off all the things he hopes Obama will do during his visit.
Hagen was clearly born to do his job; as he excitedly rattled off every single thing to do in his state — beautiful sunsets, Laura Ingalls Wilder, the Corn Palace, and Crazy Horse — it seemed for a moment unthinkable that everyone hadn't already moved to South Dakota.
There is Mount Rushmore, obviously — Michelle, Malia, and Sasha Obama visited in 2012 — which celebrates its 75th anniversary this year. George H.W. Bush spoke at the monument's 50th anniversary in 1991 with Jimmy Stewart watching. This summer also marks the 75th anniversary of the Sturgis Motorcycle rally, Hagen notes, and the state expects about more than a million motorists from around the world to attend. If Obama waits until next year, he can celebrate the centennial of the National Park Service at Badlands, Jewel Cave, or the Minuteman Missile. He could appeal to his inner HBO buff with a trip to Deadwood — although all the cursing that would be necessary to fully experience the place might be better saved for a post-presidency adventure.
"We'll keep him busy," Hagen concludes. "He'll need to come for at least a week to truly experience the state."
That might be too much to ask for. Utah state senator Jim Dabakis had been collecting signatures and sponsoring resolutions to try to get Obama to visit the state before this week's announcement. However, he seems sad that the trip will only last a few hours. "More time is needed to explore the most beautiful scenery on Earth," he said in a statement, according to the Associated Press, "but apparently the demands of the job are prohibitive of a longer stay now."
South Dakota has been lobbying for a presidential visit for a long time. Hagen sent the White House a letter in 2013 inviting Obama to visit. Local newspapers have despairingly noted that this is nothing new. The Capital Journal published an article in 2013 headlined, "Fly-over country: SD one of least-visited states by presidents." John F. Kennedy was the last president to visit Pierre, the state's capital. Presidents have dropped by in South Dakota only 14 times since 1976, while its neighbor Iowa has already been visited by nearly everyone who simply wants to be president two years from now. Many presidential trips are motivated by electoral politics or base persuading, and South Dakota happens to be a state that hasn't voted for a Democratic presidential candidate since 1964. The state has fared better than Vermont, the most neglected of all states when it comes to presidential tourism. Vermont was the only state President George W. Bush managed not to visit during his presidency. It may have been a wise choice, seeing as two towns voted to arrest him if he did.
If Obama does make time to visit the state in the next two years and managed to make it memorable, it's probable that South Dakota will keep talking about it for years to come. In 2011, the South Dakota Historical Society noted the 100th anniversary of William Howard Taft's visit by sharing the president's itinerary. The organization did not mention, like the Capital Journal account of presidential visits, that a local lawmaker's family thought it prudent to buy a new bathtub for Taft during his visit — which Obama could see himself at a museum in Keystone.