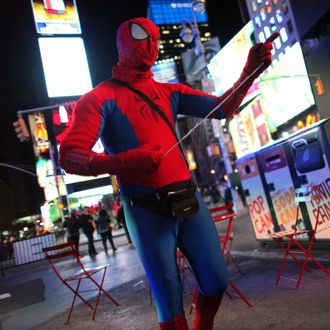 Photo: Yana Paskova/The Washington Post/Getty Images
Junior Bishop, one of the many (many) costumed characters who has gotten into trouble in Times Square, is suing New York City for $1.5 million. Bishop, who makes a living by dressing up in a Spider-Man costume and posing with tourists for cash, was videotaped fighting with a pair of cops last July. (The scuffle broke out after Bishop refused to show one of the officers his ID.)
Here's the altercation, for those who missed it the first time:
Bishop was charged with assault, criminal mischief, and resisting arrest, but a prosecutor dropped the case against the 25-year-old with no explanation in February. "[Bishop] beat the cop-assault charges by successfully arguing he had been denied a speedy trial," according to the New York Post, which also has the details of his claim against the city:
In his court papers, Bishop says the police officer grabbed him from behind "for no reason" and after "an extremely brief altercation," he submitted to an arrest once he realized it was a cop.

He says in the filing that the incident caused him "loss of freedom, severe mental anguish, humiliation, reputational harm, trauma and financial expense."
In other words: Just another day in Times Square.