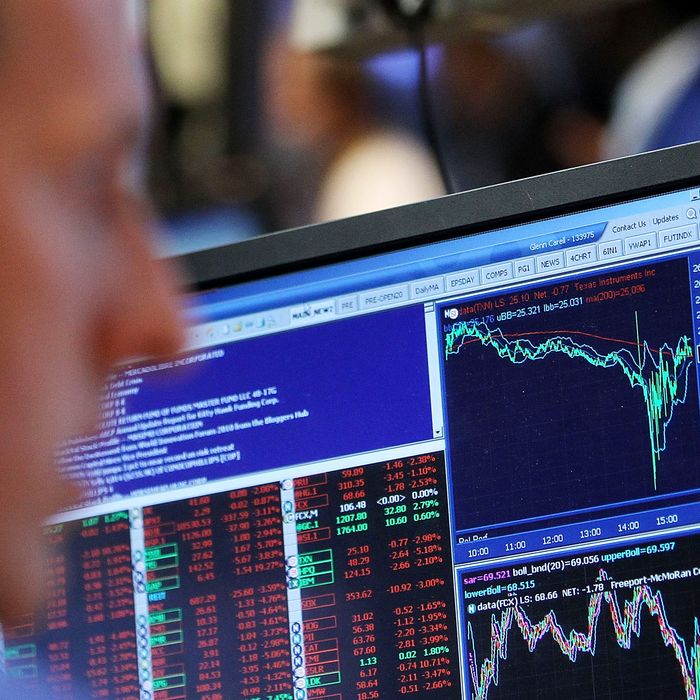 Traders work on the floor of the New York Stock Exchange before the closing bell May 6, 2010 in New York City. The Dow plunged almost 1000 points before closing down 347 on Greek debt fears.
Photo: Mario Tama/Getty Images
Remember the Flash Crash? It happened almost five years ago now: 15 minutes of total chaos, wherein the stock market lost a trillion dollars in value before prices rebounded.
It was one of the biggest-ever swings in the Dow Jones. And why it happened has always been something of a mystery, despite the significant number of investigations of the incident done by regulators, private businesses, journalists, and even Congress. But that mystery is unraveling a bit more, with the United States charging a 36-year-old Briton named Navinder Singh Sarao with wire fraud, commodities fraud, commodities manipulation, and "spoofing" — making bids with the intent of canceling them — in connection with the crash. The Commodities Futures Trading Commission, a market regulator, has also filed a complaint against him.
Here is what the Department of Justice alleges that Sarao did:
Sarao allegedly employed a "dynamic layering" scheme to affect the price of [a type of futures contract]. By allegedly placing multiple, simultaneous, large-volume sell orders at different price points — a technique known as "layering" — Sarao created the appearance of substantial supply in the market. As part of the scheme, Sarao allegedly modified these orders frequently so that they remained close to the market price, and typically canceled the orders without executing them. When prices fell as a result of this activity, Sarao allegedly sold futures contracts only to buy them back at a lower price. Conversely, when the market moved back upward as the market activity ceased, Sarao allegedly bought contracts only to sell them at a higher price.
In other words, Sarao drove the price of certain investments around with fake orders and made money off of the predictable fluctuations in the market — $40 million over four years, the government said.
Sarao is being charged with big-time crimes, but he's not at all a big-time trader. That $40 million is a pittance compared to the money big investors make on the futures markets. He seems to have executed his trades out of a modest, semi-detached house under the Heathrow flight path that he shared with his parents. He used off-the-shelf software that he souped up to make his bets. He named one shell company "Nav Sarao Milking Markets Ltd." The guy showed up to court in a pair of white sweatpants.
But technology seems to have let him have a big market effect. On the day of the Flash Crash, Sarao made about $200 million worth of bets on the direction of the market, "a trade that represented between 20 percent and 29 percent of all sell orders at the time," according to Bloomberg. "The orders were then replaced or modified 19,000 times before being canceled in the afternoon." That helped fuel the Flash Crash, the authorities think, though they told reporters they did not consider Sarao solely responsible.
It is an amazing story, but a somewhat disquieting one. The Chicago Mercantile Exchange had questioned Sarao about his trades even before the Flash Crash happened. (At one point, he said in an email, he "told 'em to kiss my ass.") It took the United States five years to find and charge a single rogue trader, and apparently only after a whistle-blower at the C.M.E. came forward? How responsible could one small-time trader really be for a dramatic movement in a huge market? The mystery's becoming less of a mystery. But I'm still looking forward to his trial, should he lose his fight against extradition to the United States, to find out how one sweatpants-clad guy with a computer can cause a trillion dollars of havoc.