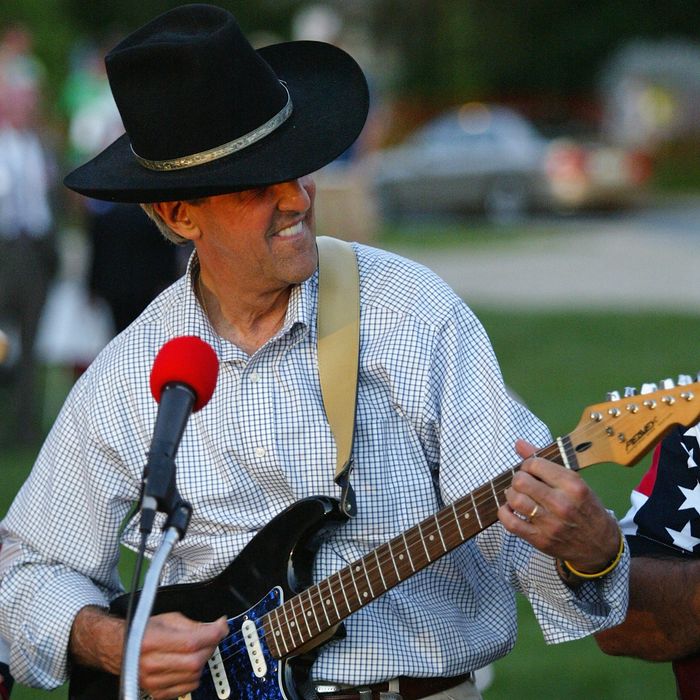 This is what John Kerry looks like to people from Switzerland.
Photo: Justin Sullivan/Getty Images
Although the countries negotiating the Iran deal in Lausanne likely want to finish up the endless discussions as quickly as possible, it looks like Switzerland would be happy to host a certain American diplomat forever. Swiss newspaper 24 Heures called Secretary of State John Kerry a "weapon of mass seduction" on its front page yesterday, as noted by Buzzfeed. According to Tuesday's paper, Kerry has been all over town charming the locals. He went to a bike shop to buy energy bars, and he took selfies at several different spots. Even Americans in Lausanne went crazy for Kerry, screaming for the diplomat like he'd just scored a touchdown in a Harvard-Yale football game. 
One pub owner told 24 Heures that Kerry was such a frequent guest he deserved a loyalty card. One time, he said, Kerry got prawns while all the other people at his table got burgers.
This love affair is not new. Kerry went to another bike shop a few weeks ago to get a broken cycle fixed. The Los Angeles Times wrote that the store's owner had "gushed" about his encounter with the secretary, and remarked that the elder statesman was in excellent shape. 
In 2013, 24 Heures ran a slideshow of Kerry playing his beloved guitar after he brought it to Geneva. The paper noted that the two were never apart. The same year, Institut Montana, a boarding school Kerry attended for a year, congratulated the alum for becoming secretary of state. During the 2004 presidential election, the school noted that their records showed that Kerry was "the best student of the elementary school" during his time there. 
The affection is mutual — let us never forget, this is a man who ordered Swiss cheese on his Philly cheesesteak — and has always been one of Kerry's opponents' favorite things to talk about. During the 2004 presidential election, Commerce Secretary Don Evans said that Kerry "looks French." Tom DeLay used to begin speeches by saying hi to his audience, "Or, as John Kerry might say, 'Bonjour.'"
The fact that European news organizations are remarking on Kerry's love for their continent isn't surprising — just the fact that we've never seen anyone be so earnest about it. 
The Associated Press called a speech Kerry gave in the country "something of a love letter." Earlier this week, a Dutch news website posted a minute-long video of Kerry walking down a street — with a surprise appearance of security guards looking bored and chewing gum — presumably thinking that their audience would want to watch it.
The outpouring of love was long overdue, too; as the Los Angeles Times noted when Kerry was confirmed, "He'd kept his affinities for Europe under wraps since the 2004 campaign." Despite all the grief Kerry gets for his May-to-September romance with old Europe, he'll always be awkward enough in the act to be inarguably American. You just can't quit us, John.