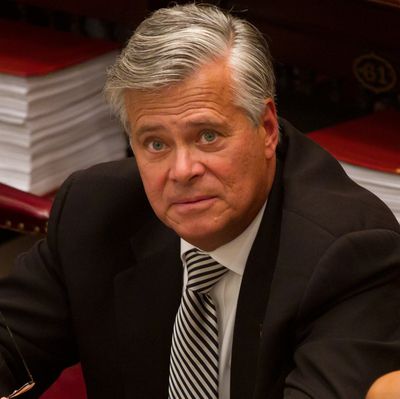 New York Senate Majority Leader Dean Skelos
Photo: Matthew Cavanaugh/Getty Images
The New York State Senate passed six pieces of uncontroversial legislation and a bunch of ceremonial resolutions yesterday. It was in session for all of 34 minutes.
But the chatter about Senate Majority Leader Dean Skelos and Albany's plague of corruption investigations went on all day, everywhere. In the state capitol's corridors, in the restaurants where the pols and the lobbyists eat lunch.
I hear Dean might be indicted Thursday.
Is this one of Dean's last days as Senate majority leader?
Who's next?
The indictment of Democratic Assembly Speaker Shelly Silver by U.S. Attorney Preet Bharara rattled state government's political culture in February. Working to pass the state budget was a nice distraction that got everyone through March. And there are still plenty of non-scandal conversations and initiatives: On Tuesday, Governor Andrew Cuomo, for instance, met with the families of black men killed in confrontations with the NYPD (afterwards, the families said they were unhappy with the governor's unwillingness to immediately appoint a special prosecutor). Democrats in the Senate have proposed closing a campaign finance loophole (good luck with that).
But the recent front-page New York Times story saying that Bharara was presenting evidence to a grand jury on a case involving Skelos and his son has revived the rumors and the obsessing. The fact that eight members of Skelos's caucus have been subpoenaed to testify has spread the skittishness. "The capitol," a Republican senator says, "is the dome of gloom."
State legislators are also keeping an eye on a courtroom in White Plains, where events are likely to darken the Albany mood even more. Matthew Libous is scheduled to be sentenced on May 18 for failing to report $69,950 on his income taxes over a three-year period. Perhaps he will draw a fine and the requirement to repay the IRS. But the Albany view is that because Libous is the son of the senate's second-ranking Republican — and because he was prosecuted by Bharara — he will be going to jail.
Even if that perspective might be a bit skewed, the case is particularly painful to insiders because Tom Libous, who represents Binghamton, is widely liked and respected, and because he has cancer of the prostate, lungs, and spine. On top of which, Libous has been indicted — yes, by Bharara — on charges that he lied to FBI agents in 2010 about helping his son get a job.
Libous is supposed to go on trial in July. Silver's trial is now scheduled for November. By which time Skelos father and son may be officially lined up on the court docket.
"We've seen a lot of strange things in Albany," a veteran government operative says. "But we've never seen the indictment of two leaders of the legislature." It hasn't happened. And maybe it never will. But the talk of the town has already moved on: Will Bharara go for a trifecta?