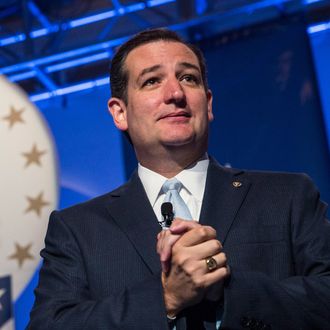 "Diamond Joe" Cruz.
Photo: Andrew Burton/2013 Getty Images
You can stop letting things go to find out if they come back to you, because Ted Cruz has inadvertently invented a new test to find out how much you really love something. Two years ago, the Texas senator made us question our fondness for Dr. Seuss by reciting (and misinterpreting) Green Eggs and Ham during his fake filibuster, and now he's going after The Simpsons. Thursday on "The Federalist Radio Hour," Cruz revealed he's a huge fan of the show (despite its obvious disdain for the GOP). Listen to the clip here to determine if you can still chuckle at Bleeding Gums Murphy's best joke when it's being relayed by Cruz.
You can test your other favorites too. Sure, it's easy to love Star Wars when you're checking out Old Han and getting chills at the sight of a Star Destroyer crashed in some desert, but how do you feel about it when Cruz is explaining how the Empire is analogous to the Washington, D.C., Establishment?
The test also works in the opposite direction. When the Daily Beast asked The Simpsons if they love the senator back, showrunner Al Jean responded, "To paraphrase Kang, 'Ted Cruz?' Go ahead, throw your vote away." That seems to be where America's at right now.