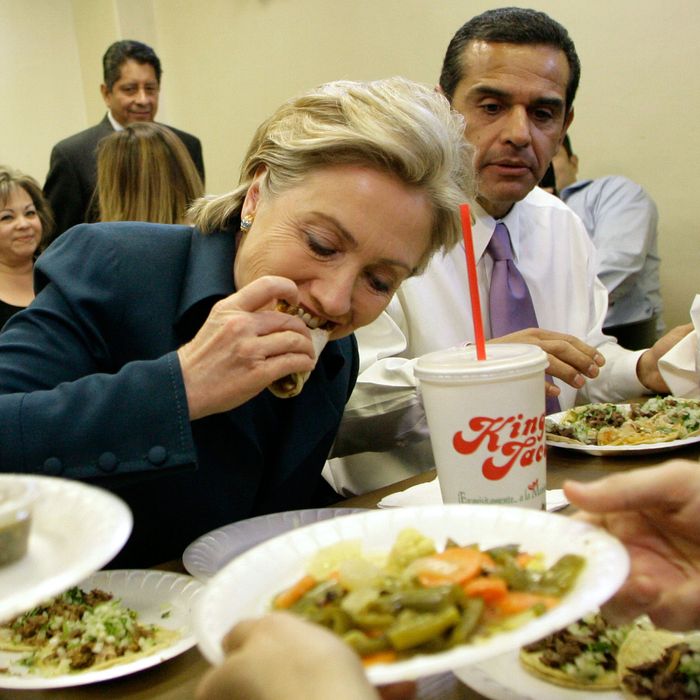 This picture of Hillary Clinton eating tacos during her 2008 presidential campaign offers an inside look of what her meal at Chipotle may have looked like.
Photo: Danny Moloshok/Reuters/Corbis
According to Lexis-Nexis, fewer than 300 stories have been written about Hillary Clinton's trip to a Chipotle in Ohio on Monday. The press should be embarrassed. If reporters were truly interested in uncovering all the facts about what the presidential candidate knew about her decision to order a chicken burrito bowl and when she knew it, thousands of articles would have already been published about this moment, the most seminal event of the 2016 race thus far. 
However, Americans do know a lot more about Clinton's involvement in the Chipotle order than we did three days ago. Here's a quick guide to what has been uncovered.
How did we first learn about the Hillary Clinton trip to Chipotle?
The world would have likely never learned the details about Clinton's lunch stop outside of Toledo, Ohio, had reporters not requested previously unseen surveillance footage of the presidential candidate ordering food from Chipotle employees. Without this once secret video, Hillary would have gotten away with eating lunch without proper scrutiny.
What did Hillary order?
She ordered a chicken burrito bowl with guacamole. The campaign also bought a Blackberry Izze, a soda, and a chicken salad.
What does her Chipotle order mean?
According to Eater, "It's a fairly perfect order, when you think about it. A chicken bowl says, 'I'm only somewhat concerned with my health and calorie intake.' You're opting for chicken instead of beef, and don't want that calorie-loaded flour tortilla, but you're not so overly zealous as to get a salad. And the choice of guacamole says 'I care about the finer things in life, to hell with that two dollars.'"
Was Hillary's visit to Chipotle more than just a visit to Chipotle?
Yes. According to CNN, it was a symbol. "But Hillary's trip to Chipotle says more than just a little something about her dietary habits. In many ways, it's a sign of the times — both in presidential politics and the dining world … It's symbolic from a political and business standpoint. Many people see McDonald's as the brand of yesterday … whereas Chipotle is perceived as the brand of today."
Was she making a political statement by going to Chipotle?
The Wall Street Journal says most definitely. "The Chipotle chain's customers score as the most 'liberal' in the country … On the other side of the street was a Taco Bell, which scores high among 'middle of the road' Americans in the Experian data – perhaps a more electorally savvy choice for a politician."
Are there any other theories for why Hillary went to Chipotle?
Fox News host Andrea Tantaros has some ideas. "Was it maybe — Hispanic outreach? She heard Rubio was announcing, so she thought, let's go to a Chipotle and get some pico de gallo." 
Regardless of the reason why, Thomas Lifson, driving-in-Ohio expert, noted that such a trip would take quite a bit of planning on the American Thinker website. "I have driven the Ohio Turnpike many times, and I know that travelers can stop at a 'service plaza' or pay an extra toll to exit and then re-enter after dining somewhere offsite.  The closest service plaza to Maumee, where Hillary exited to hit the Chipotle on US 20, is the Blue Heron plaza, featuring Hardees, Mancino's Italian Eatery, and Red Burrito.  None of these was good enough, or else none of them offered the proper optics."

How many napkins did the campaign use?
As Jon Stewart pointed out earlier this week, the answer to this question remains alarmingly unknown. 
Have we ever seen Hillary Clinton order a burrito before?
We have not. 
How much did the lunch cost?
$17.50, according to the Daily Mail.
Was she actually just robbing the Chipotle?
CNN's Chris Cuomo concedes, "That is what it looked like."
Did Clinton pay for the meal?
She did not. Clinton staffer Huma Abedin paid the bill.
Did the campaign leave a tip?
It did not.
Does this mean anything?
According to Rush Limbaugh, yes. He said on April 14, "I would like to know if she left anything in the tip jar, because that would be an indication that she understands the average, ordinary, everyman that she seeks to represent."
Did Clinton carry the tray that held the campaign's order?
She did, according to the New York Times.
What time did she order the burrito bowl?
Around 1 p.m.
How much time did the group spend at Chipotle?
About 45 minutes. 
And no one noticed who she was?
One man in the restaurant took photos of her.
Was she wearing an invisibility cloak for most of the visit?
No one has asked this question. 
"Is Mrs. Clinton's order like the normal Chipotle meals of everyday Americans, or is it polarizing?"
The Upshot: "According to Chipotle's nutritional calculator, this comes to 840 calories, 11.5 grams of saturated fat and 1,720 milligrams of sodium. Answer: Mrs. Clinton's order was healthier than the average American's order, with significantly fewer calories, saturated fat and sodium than most orders do."
Did reporters know that Hillary would stop at Chipotle?
They did not, although donors and advisers were warned that the Scooby van would make a lunch pit-stop on Monday. 
Did the people working at Chipotle know that Hillary Clinton had stopped by?
They did not realize until a New York Times reporter called them for details. The employees then watched security footage showing that Hillary Clinton — wearing sunglasses — had indeed visited their restaurant.
Did anyone notice Secret Service members milling around the Chipotle?
No. Cook Dylan Digby told Politico Magazine, "I didn't see any blatantly obvious Secret Service guys,"
Were there Republicans working at the Chipotle? 
There was at least one Republican, 29-year-old manager Charles Wright. He does not plan to vote for Clinton. 
How has the international community responded to the Chipotle visit?
Vicky Frost, a writer at the Guardian, called the lunch stop "flawless," and said that "British politicians have a lot to learn from" the moment.
Have any other celebrities gone to the Chipotle in Maumee where the event took place?
Kevin Hart once stopped there.
What does the Chipotle trip reveal about the weaknesses of the Clinton campaign?
Republican National Committee chair Reince Priebus told Fox News, "This is the big thing that a lot of the mainstream media is missing. This is not savvy. This is not something that's interesting. This is the only strategy that they could employ. The strategy is: Make sure the field knows that she's running, and then not answer any questions from the media, and not actually talk to anybody."
He went on to say that Clinton is clearly hiding something. "This is Iowa; it's not Hollywood. They're all walking into Chipotle with sunglasses on trying to hide from the public."
Did Hillary Clinton have any previous connections with Chipotle before her visit?
As the Weekly Standard pointed out on Tuesday, the CEO of Chipotle, Monty Moran, once spoke at a Clinton Foundation event in New York City. He took part in a panel titled "The Case for Economic Justice."
Is there an acrostic that can help me understand the importance of the Chipotle trip?
Clinton
Hillary
Is
Probably
Obama
Trying to
Lure
Everyday Americans.