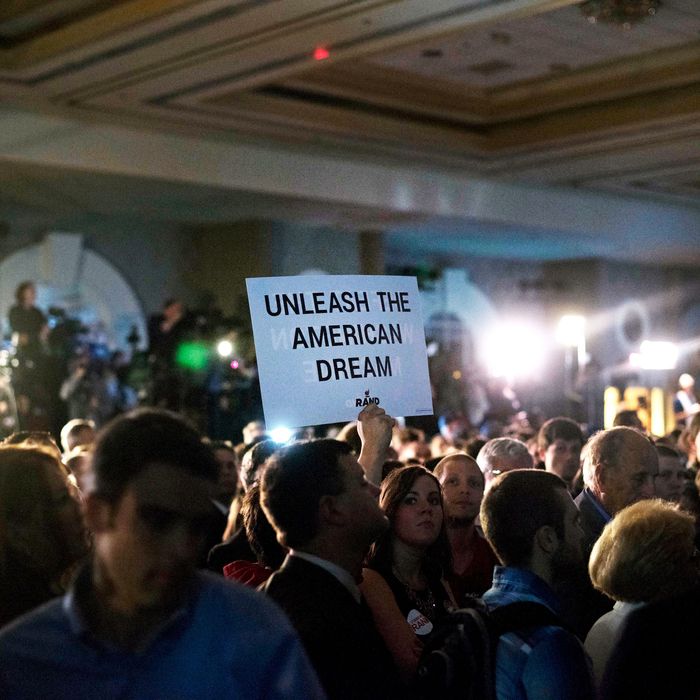 Photo: Daniel Acker/Bloomberg via Getty Images
The press will be obsessively covering every speech, handshake, and tweet of the 2016 presidential election, but some of the weirdest, most interesting moments get lost in the din. Knowing which Republican candidate had the best NCAA bracket or how many of the super-PACs supporting Ted Cruz have the same name might not change your understanding of the race, but it does a tremendous job of reminding you how wonderfully strange American politics can be sometimes.
Each week, Daily Intel will assemble a selection of the most amusing details about the campaign season that are entirely lacking in news value. 
— Jeb Bush from Savannah said he won't vote for Jeb Bush from Florida.
— In a Sims simulation of the Republican primary, Rand Paul got into fist fights with everyone, Chris Christie just swam laps endlessly, and Rick Perry forgot to use the toilet and made a mess on the floor. Dr. Ben Carson was the last one to die.
— It was revealed this week that in 1997 Hillary Clinton would not tell a Scottish newspaper what she would do first if she won the lottery. 
— Jeb Bush's son tweeted, "LOL - come on dad, think you checked the wrong box #HonoraryLatino." The former governor changed his voter registration so it no longer claims he is Hispanic.
— The Washington Post reported that when Rand Paul "was a surgical resident in Atlanta, his friends called him 'Doogie Howser' because he still looked like a teenager."
— Four super-PACs supporting Ted Cruz's presidential bid have raised more than $30 million so far. They are called Keep the Promise, Keep the Promise I, Keep the Promise II, and Keep the Promise III.
— Lincoln Chafee said he might start a presidential campaign. His website features a testimonial from former senator Robert Byrd, who died in 2010. 
— Scott Walker had the best NCAA bracket out of all the 2016 candidates. However, it wasn't as good as Mitt Romney's. 

— The Washington Free Beacon wrote that "It's Time for Hillary to Take a Stand on Hitler."
— Lindsey Graham says if you see him on the Lincoln Day First-in-the-Nation Presidential Sunset Dinner Cruise, it probably means he's running for president.
— A set of two Rand Paul wine glasses costs $40. A set of four Ready for Hillary rocks glasses costs $49.99.
— Chip Saltsman, Mike Huckabee's former campaign manager, called Friday's NRA convention "the ultimate choir." He added, "Any time you get 70,000 pro-Second Amendment people in one place, it's a good opportunity for anybody running on the Republican side." Rand Paul was not invited to the event.
— No one knows if Ron Paul clapped at his son's presidential announcement.
— More than 100 people watched Martin O'Malley play his guitar in an Iowa pub.