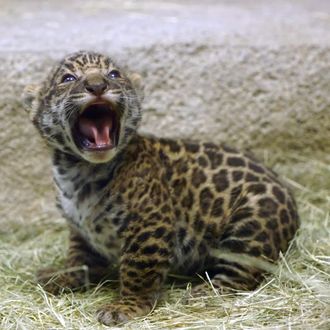 It's a warm, rainy Friday, with promises of brisket and Cadbury cream eggs on the horizon. If we can just make it through these next few hours, we have 48 hours of sleeping in and catching up on Empire and awkward questions from extended relatives to look forward to. Here are eight actually good things that happened this week to make the final hours of your workday a little easier.
1. The Audubon Society sent Jonathan Franzen to the burn unit. Jonathan Franzen wrote a poorly sourced New Yorker article this week that argued that focusing on future climate change could impede current conservation efforts. The story ended up reading like a thinly veiled attack on America's foremost bird lovers' organization, the Audubon Society. In response, Mark Jannot, Audubon's VP of Content, wrote a piece so scathing in its critique of Franzen that we'd be surprised if it didn't leave him with actual burns. It starts with questioning Franzen's love of birds by calling him a "bird lover" — in quotes! — and continues on from there with accusations that The New Yorker story was just propaganda for the American Bird Conservancy, a rival bird organization of which Franzen serves on the board. If anything else, the incident was a master class in polite shade, and allowed us to revisit this tweet, the best one of all time:
2. The New York Boy Scouts hired its first openly gay Eagle Scout. Though it's technically against the national organization's rules to employ anyone who identifies as gay, Boy Scouts' Greater New York Councils openly defied that discriminatory rule by hiring openly gay Eagle Scout Pascal Tessier to be a summer camp counselor. 
3. A Williamsburg councilmember rescued a pregnant cat with a bullet wound. The unnamed pregnant kitty was struggling along the BQE when councilmember Stephen Levin spotted her. She was pregnant and suffering from a bullet wound in her leg. She's now being treated by a veterinarian through the Brooklyn Animal Resource Coalition, and doctors are hopeful she'll make a full recovery. 
4. Internet strangers banded together to help a single mother displaced by the East Village fire. Diane McClean and her three kids left their apartment building on Second Avenue last Friday, and when they returned, everything they had was destroyed by the gas explosion. Luckily friends, neighbors, and strangers have banded together to create a GoFundMe page that has raised close to $87,000 to help the McCleans get back on their feet.
5. Vaccines genetically tailored to patients are showing promise in the fight against cancer. Three patients with advanced skin cancer have shown improvement after doctors used genetic sequencing to develop vaccines that will help activate cancer fighting cells in their bodies. See, the future isn't all bad. 
6. A South Carolina man was found safe after two months of being lost at sea. Louis Jordan hit the open seas in his sailboat on January 23 and was not heard from again until his rescue on Thursday. A German container ship found Jordan after his boat capsized and he spent months catching and eating fish to survive. He's now home and reunited with his family in North Carolina.
7. Stanford made tuition free for anyone whose parents make less than $125,000 a year. In an era where student loan agreements look a lot like indentured servitude, the move is great news for anyone who wants to get a good education but doesn't have rich parents.
8. A baby jaguar was born at the San Diego Zoo. And she is already adorably tired of life.