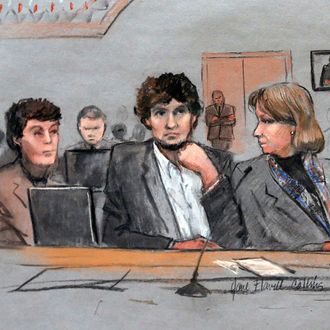 Photo: Jane Flavell Collins/Corbis
The jury in the Boston Marathon bombing case found 21-year-old Dzhokhar Tsarnaev guilty on all 30 charges he was accused of earlier in April. Starting today, they will have to decide whether he should be penalized with life in prison, or execution.
Only three people have been executed in federal death penalty cases since the practice was legalized in 1988. Timothy McVeigh, who killed 168 people in Oklahoma City 20 years ago, was one of them. Former drug kingpin Juan Raul Garza, executed in 2001 for three murders, and veteran Louis Jones Jr., executed in 2003 for raping and killing a young soldier, were the other two. An inmate on federal death row has not been executed in more than a decade. 
Since death penalty decisions must be unanimous, defendants are sentenced to life in prison in about two thirds of federal cases.
The families of many of the victims who lost limbs and lives in the bombing have mostly sided with a life in prison verdict; the idea of the endless, decade-spanning appeals that often accompany death penalty rulings don't make it easy to move on. According to a new CNN/ORC poll, the American public tips the other way — 53 percent of Americans think Tsarnaev should face the death penalty. Fifty-eight percent of residents in the Northeast think the defendant should be sentenced to death.
The jurors in the case were warned to avoid this public debate on the case. Judge George A. O'Toole told them last week to "enjoy the warm weather," but also to avoid the impending citywide remembrance of the bombing that happens this time of year. "Do not attend the Boston Marathon or any events or gatherings related to the anniversary or the current running of the Boston Marathon," he said.
It is impossible to know how the jury will decide, given that verdicts — even when examined in the aggregate — provide few trends, and are often unpredictable. David Hoose, a Massachusetts lawyer, told the Boston Globe, "You put 12 people in a room, and God knows what impacts them. It's just impossible to know the inner-workings of a human mind after sitting through something like this."