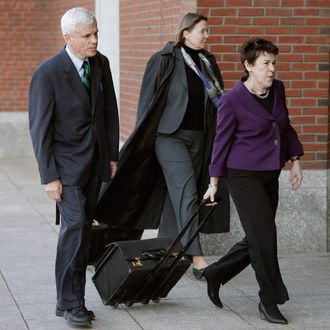 Tsarnaev defense team enters the courthouse during the penalty phase of the Boston Marathon Bombing trial.
Photo: Steven Senne/Corbis
Dzhokhar Tsarnaev's defense team laid out the fundamentals of their case against the death penalty today as lawyer David Bruck delivered opening statements in the penalty phase of the trial. He then proceeded to call a slate of witnesses who portrayed Dzhokhar's older brother, Tamerlan, as controlling and volatile. That group included the late Tamerlan's mother-in-law.
In Bruck's opening, he tried to assure the jury that choosing life imprisonment would mean Tsarnaev would be shut tightly away, far from the media spotlight. He offered mitigating factors, referencing Tamerlan's domineering temperment and the fact that Tsarnaev's parents were both diagnosed with mental illnesses. Providing a glimpse at what's still to come, he revealed that Dzhokhar's friends from high school and college would be on the witness list alongside a Princeton professor who studies the family's native Chechnya, as well as an expert on adolescent brain development.
"There is no evening the scales, there's no point in trying to hurt him as he hurt because it can't be done. All we can do — all you can do — is to make the best choice. And if there's one thing to remember through all of this, it is that Jahar will be severely punished either way," Bruck argued, before showing a photograph of the Florence, Colorado, Supermax prison that Tsarnaev (also known as Jahar) will likely call home for the rest of his life, if he is spared capital punishment. The subject of a recent New York Times Magazine article, the misery inherent in solitary confinement inside the prison has led some to argue that sentencing Tsarnaev to death might be letting him off easy.
"He goes here and he's forgotten. No more spotlight like the death penalty brings. His legal case will be over for good. And no martyrdom. Just years and years of punishment, day after day while he grows up to face the lonely struggle of dealing with what he did. And all the while society is protected," said Bruck, whose words seemed to echo a letter by the parents of 8-year-old victim Martin Richard, published in the Boston Globe earlier this month, making the same plea. "As long as the defendant is in the spotlight, we have no choice but to live a story told on his terms, not ours," they wrote. "The minute the defendant fades from our newspapers and TV screens is the minute we begin the process of rebuilding our lives and our family."
Bruck segued into talking about Tsarnaev family dynamics. "The man who conceived, planned, and led this crime is beyond our power to punish. Only the 19-year-old younger brother who helped is left," he implored. "[Prosecutor] Ms. Pellegrini said that Tamerlan doesn't matter, he's just an easy target. But if Tamerlan hadn't been in the picture, would Jahar have done anything like this on his own?" he asked. Painting a picture of an older brother who was "aggressive, extreme" and walked around "dressed in flowing white robes like a Saudi sheikh," Bruck then depicted Tsarnaev as a young man who was studious and beloved by his schoolmates and teachers. "When people who knew Tamerlan heard that he bombed the marathon, it kind of fit," he said. "But people who heard and knew Jahar were stunned."
Bruck said that the patriarchal structure of the traditional Chechen family played a key role in Dzhokhar's transformation. With a father crippled by PTSD, organic delusional disorder, panic attacks, and various physical maladies, Tamerlan became the de facto head of the family, and it was only natural that Dzhokhar would fall into line behind him. "When the older brother went off the rails, in this family, there was every reason to expect he'd pull the younger brother with him," Bruck said. "In a family like Jahar's, turn your back on your brother and you're no one."
Following the opening were several witnesses who portrayed Tamerlan as increasingly combative and hot-tempered, including members of his mosque. In a surprising move, defense attorney Judy Clarke called Judith Russell, the mother of Tamerlan's wife Katherine, who described the progression of her daughter's relationship with him and her conversion to Islam.
"It was hard to get to know him and he didn't seem interested in getting to know us," Russell said of Tamerlan. Concerned about his infidelity and lack of motivation, she implored Katherine to break up with him. She recalled receiving a phone call from the mother of one of Katherine's roommates who told her that her friends were very disturbed by the relationship.
In her junior year of college, Katherine learned she was pregnant and got married shortly after. "I did not go to the wedding. No one did. I mean, no one from our family," Russell said. At that time, Katherine was wearing a hijab. "I wasn't concerned with her adopting Islam because there's nothing wrong with Islam. But I was concerned with the whole package," she recalled. "He didn't really have a job. It just seemed like she was giving up an awful lot to be in the relationship."
On the morning of April 19, Russell learned of Tamerlan's death and his involvement in the attack. "I woke up hearing my other daughter crying in the hall, and I wanted to know what was going on. And she said Katie thinks that Tamerlan is dead," she said. Since then, her daughter has undergone a process of rebuilding her life — from both the attacks and a seemingly toxic relationship. "She really appreciates that we stayed as a family supportive of her overall. So we have a pretty good relationship. I still see her and the baby," Russell said. "She is healing from this experience. Obviously, it hasn't been as hard as all the victims in Boston. But she's getting her life together and is more like the Katie we knew."