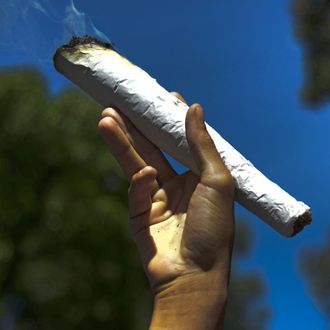 A man holds a giant marijuana joint during the World Day for the Legalization of Marijuana.
Photo: Raul Arboleda/AFP/Getty Images
State Representatives Jean O'Sullivan and Christopher Pearson are tired of waiting for the Vermont state legislature to consider marijuana-legalization legislation. They decided the best way to get everyone's attention back on the issue was by sponsoring a bill that would ban booze. If the bill were passed, anyone found with alcohol could face 30 years in prison, and up to $1 million in fines.
Don't worry, however, residents of Vermont.
O'Sullivan and Pearson have no intention of letting this bill pass. O'Sullivan told the Huffington Post that "the object was to basically embarrass leadership." Pearson told the Associated Press, "Whereas prohibiting the sale and possession of alcohol is a laughable suggestion, the commonsense reaction against this idea should be the same logic we use to consider the continued prohibition of marijuana."
The two lawmakers support their argument with reams of statistics showing the relative harmlessness of weed compared to alcohol, but, of course, the reporters giving these politicians publicity are most interested in learning whether the sponsors are pot smokers themselves. O'Sullivan told the AP that she uses marijuana, "from time to time in a legal environment, like when I visit my son in Seattle." Pearson's response was the same: "From time to time."
Vermont Public Radio notes that, unsurprisingly, "[t]he bill has yet to see any action in the Statehouse."