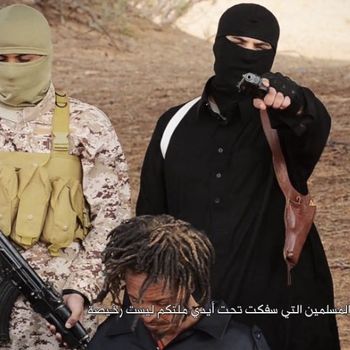 ISIS has released yet another horrifying video. It appears to show militants executing around two dozen Ethiopian Christians in southern and eastern Libya, which, the New York Times reports, might be "the first evidence that the group's leaders in those countries are coordinating with fighters who have taken up the group's banner in those parts of Libya." The video also features footage from Iraq and Syria, as well as a narrator who warns that Christians living under the Islamic State will be killed unless they convert or pay a tax. 
From the Times:
During the last five minutes of the half-hour video, the footage cuts back and forth between scenes in the southern desert and a beach along the coast, at one point displaying both with a split screen.

Masked fighters lead a row of bound captives dressed in black into the desert and then shoot each of the prisoners in the back of the head. Another group of masked fighters leads a row of prisoners in orange jumpsuits along a beach and then beheads each of them with a long knife, placing the severed heads on the bodies lying on the sand in bloody surf.

"You will not have safety even in your dreams, until you accept Islam," declares a masked figure, speaking English with an American accent, and pointing a revolver toward the camera. "Our battle is a battle between faith and blasphemy, between truth and falsehood."
It's not clear who the captives were or when they were captured, according to CBS News. A video released in February showed ISIS-affiliated fighters killing 21 Coptic Christians in another part of Libya, which prompted Egypt to begin air strikes there.