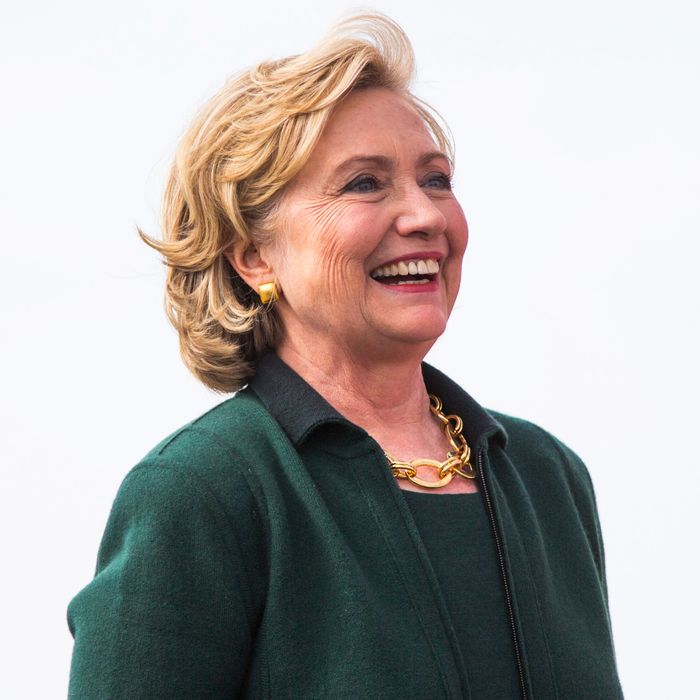 Photo: Brooks Kraft/Corbis
The moment has finally come. After years of "not-so-Shermanesque" denials, "I'm still thinking about it," and confirming our suspicions with a twinkle in her eye, if not any actual statements, Hillary Clinton will finally announce that she is running for president in 2016 on Sunday. 
It won't be a big, sparkly event like senators Ted Cruz's or Rand Paul's campaign announcements — she's saving the spectacle for next week when she goes to Iowa … where she came in third place during primary season in 2008. (And by spectacle, we mean "hanging out in living rooms in important primary states.") She's announcing her campaign with a video on social media, per CNN. The video has already been recorded, and will avoid casting the Democratic primary as a done deal (again, remember 2008?).
As you might imagine, the response to this long-awaited news on Twitter was expansive. In fact, the response to this news was expansive everywhere; there are few news events that would be covered by E! News, People magazine, Reuters, and the Des Moines Register.
There were puns. 
Journalists made jokes.
A few reporters complained that the announcement would ruin their Sunday; the Clinton campaign tried to lessen the hard feelings about a working weekend by inviting a bunch of people on the Clinton beat to an off-the-record dinner on Thursday, according to the Huffington Post. John Podesta made them pasta with walnut sauce. 
There were uninsightful observations made by pundits. 
Some hypothesized how her internet announcement would differ from her 2008 YouTube video.
Why isn't Clinton planning a big campaign announcement in Brooklyn, where she could easily scrounge up an endless number of excited young people to make her look incredibly hip and popular? Mainly because she doesn't need it — the Democratic base already supports her and everyone knows who she is. The media will write about her campaign announcement regardless of the fanfare (and in a prerecorded video, she can insure that nothing will go wrong). One of the biggest complaints that gets thrown at Clinton is that she is out of touch, and a big event won't do her any favors on that front (regardless of the fact that such a move would make her identical to many other candidates who fault her for that very vice). The most important part of a campaign launch is always the fundraising push, and the Daily Beast reports that Clinton's team is sure they can raise "an insane amount of money" regardless of how splashy her entrance to the race is.
There were those who were confused as to why this was news. 
And there were those who were excited this wait was finally over, whether because they love Hillary, or just hated the waiting game. It turns out the Clinton campaign felt the same way; one staffer told Politico, "We just wanted to get this thing over with and get on with it."
The Republican National Committee also seemed pleased that Clinton had finally announced. It meant that they finally got to show off the attack ad they have clearly been saving for this very moment. It's a web video targeting voters in battleground states — and a reminder that things are going to get nasty very soon. 
How did Hillary celebrate this news — which she is still not allowed to talk about for two more days? By blogging at the Huffington Post. 
She posted the new epilogue for Hard Choices, which appears in the paperback edition of the book. It is titled "A New Chapter," and discusses what becoming a grandmother is like, eating fish tacos with President Obama during the final days of her time as secretary of state, and making a memory quilt. It ends, "I folded up the quilt and got back to work."