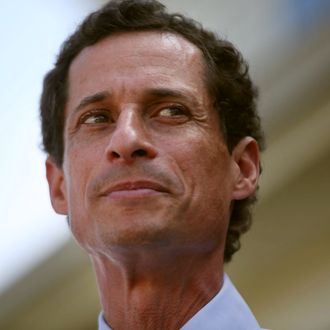 Anthony Weiner.
Photo: Spencer Platt/Getty Images
Those who read through The Wall Street Journal's report on reactions to Mayor Bill de Blasio's decision to hold off on endorsing Hillary Clinton found a wonderful surprise at the end: Anthony Weiner sounding off on his old mayoral rival. The former congressman said that after working in Bill Clinton's administration and managing Hillary's Senate campaign, she should be like family to de Blasio, "and you don't ask a family member to lay out her résumé before you decide to support her."
"This notion that he is somehow this spokesperson for some wing of the party that Hillary needs to audition for, I think, is wrong and not helpful," Weiner continued. "She [was] working on a progressive vision of health care when Bill de Blasio was still smoking pot at NYU or wherever he went." (NYU and Columbia.) While Weiner said he had no inside information, it should be noted that he's married to one of Hillary's top advisers — though that's probably just one of the many reasons he's miffed at that mayor.