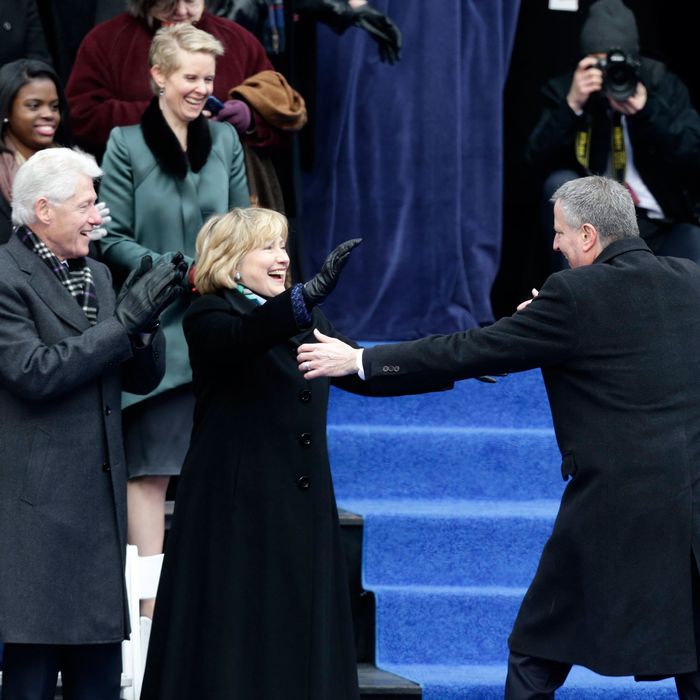 Let's make this work for both of us.
Photo: Jason Szenes/EPA/Corbis
Hillary Clinton is motoring her way to Iowa for the first official stops of her 2016 presidential campaign on Tuesday and Wednesday. It's an obvious choice, right? First caucus state, which Clinton lost badly to that upstart Barack Obama in 2008 … 
Ha. Clearly Clinton is going to Iowa to seek revenge on Mayor Bill de Blasio for his non-endorsement of her candidacy, by stealing the thunder from de Blasio's speech in Des Moines on Thursday.
Nah. The proximity of the events is a coincidence. De Blasio's appearance at Drake University, at the invitation of former senator Tom Harkin, has been in the works for months. Clinton's itinerary appears to have been determined in the past few weeks. 
But the timing makes for a tidy next round in a dynamic that will unfold over the next year or so. De Blasio won't exactly be stalking Clinton, but he'll keep manufacturing ways to try to insert himself, and his trademark progressive issues, into the presidential campaign. The trick is for the mayor to make himself into a constructive conduit for the Democrats' ascendant left wing — instead of becoming a marginalized left-wing scold.
De Blasio is off to something of a bumpy start. On Sunday morning, hours before Clinton released her "I'm running for president" video, the mayor was on Meet the Press, demurring when Chuck Todd asked whether he was ready to endorse Clinton. "No," de Blasio said. "It's time to see a clear, bold vision for progressive economic change … clearly what's happening in the progressive wing of the Democratic Party is a demand for our candidates to come forward with a vision."
That earned him a nasty tweet ("self-aggrandizing") from a Beltway insider who's backing Clinton, and the mockery of the front pages of both New York tabloids. All of which might not be a bad thing, if de Blasio can position himself as a champion of progressives and not an annoyance to his own party's presumptive nominee. "Constantly making sure the inequality agenda is front and center in Democratic politics — for him, that's part of the job as mayor," a de Blasio adviser says. 
There's no doubt de Blasio genuinely believes that income inequality is, as he's put it, "the defining challenge of our time." His case to Clinton to make it a central theme of her campaign is going to be both "moral and strategic," the mayoral adviser says. The substantive argument is that things like a higher minimum wage and higher taxes on the wealthy are the correct policy prescriptions for broader economic health. De Blasio's political claim is that by emphasizing those issues, Clinton will energize and motivate the Democratic base in November 2016. 
"Wall Street has come roaring back at the same time the middle class has continued to disintegrate, and the poor get fewer and fewer opportunities," a de Blasio strategist says. "There's always ways to water down principles and use poll-tested language. If you do that, people's bullshit meters go off. It's not going to motivate people to vote. The 2014 midterm disaster was because Democrats offered bland pabulum."
Perhaps. Given the Obama hatred in red states like North Carolina, Kentucky, and Alaska, it's tough to see how a populist short of Huey Long could have won some of the 2014 Senate races. In 2016, the Republicans may help Clinton turn out the base by nominating someone decisively to the right, or someone named Bush. 
In the coming months, de Blasio will continue to recruit a progressive "coalition of the willing," one of his strategists says. Which is a good thing, because the preliminary version that surrounded the mayor at a Gracie Mansion press conference on April 3 was heavy on usual suspects and true believers. The group will hold an event — probably in late May, and probably in Washington — to unveil what's being tentatively titled "The Progressive Contract With America" (a de Blasio insider, recognizing the unfortunate Newt Gingrich connotations, promises "we'll come up with a better name than that"). There's also talk of staging a presidential candidate forum centered on income inequality.
"The Democratic Establishment is afraid to do anything controversial: 'Don't be a tax-and-spend liberal!'" a de Blasio adviser says. "Every two years there are new iterations of what a Democrat shouldn't be. At a certain point, you're just a collection of bullet points. That's what he wants to avoid."
A veteran Democrat who knows both Clinton and de Blasio suspects that there's an element of winking agreement, if not coordination, going on between the candidate and the mayor. "It's more likely than not that he has been in touch with her about what he's going to be saying and doing," the strategist says. "Maybe it gives her cover on the left without actually pulling her to the left."
Or maybe the Clinton camp has already gotten the message, without any help from de Blasio — who was Clinton's campaign manager when she ran for a U.S. Senate seat in 2000, until she demoted him. "Americans have fought their way back from tough economic times," Clinton said in her video on Sunday. "But the deck is still stacked in favor of those at the top."
Whether Clinton is paying attention or not, De Blasio's Midwest jaunt — he's also speaking at the University of Nebraska on Wednesday — is sure to draw more media coverage after his "Meet the Press" remarks yesterday. De Blasio is unlikely to supplant Elizabeth Warren as a national progressive star. But being relevant in 2016 should be useful to de Blasio when he runs for reelection in 2017 — and might even boost him in 2018.
"It helps you fund-raise, for one," a New York Democrat says. "And if Andrew Cuomo does not run for another term in 2018, there will be a primary. If Eric Schneiderman is running against Bill de Blasio, a national profile on progressive issues is helpful to Bill de Blasio." For now, though, he's got enough of a challenge trying to influence the race for the White House.