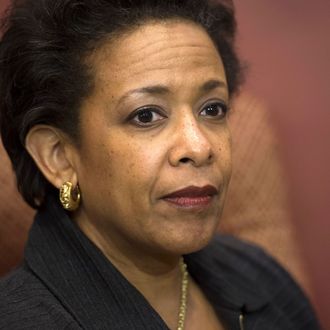 Photo: Saul Loeb/AFP/Getty Images
After five months of delay, the Senate finally confirmed Loretta Lynch to be the next U.S. attorney general on Thursday. She will become the first African-American woman to run the Justice Department. All Democratic senators voted for her, as did ten Republicans. She is expected to start on Monday.
The long wait for the Senate's verdict on her nomination meant that people have had plenty of time to consider how her tenure at the Justice Department could differ from Eric Holder's — and where it is likely to follow recent precedent. 
Here's a quick look at how Lynch's past — and the recent history of the department she will soon lead — will influence the next few months.
She will be an attorney general whose name is not Eric Holder.
For Republicans, this fact appears to be the most impressive thing on Lynch's résumé. During her confirmation hearing in January, Senator John Cornyn asked her, "you're not Eric Holder, are you?" Jeb Bush told reporters this week, "I think the important thing is: Getting rid of Eric Holder's gotta be a win." (Republicans don't seem to have noticed that by delaying Lynch's confirmation, they prolonged the amount of time Holder would get to run the Justice Department.)
In a response to a similar line of questioning from Senator Ted Cruz, Lynch said, "You've asked how I will be different from Eric Holder. I will be Loretta Lynch."
However, there are plenty of areas where Lynch is sure to follow in Holder's footsteps — Obama did nominate her, and he has undergone no massive transformation when it comes to legal thinking. For example, she questions the recent glut of voter I.D. laws being passed around the country. Bloomberg Politics, after reading speeches she gave early in her career, said Lynch "comes across as ardent about her work as a prosecutor, social justice and trying to address racial disparities, especially in policing." She also sees nothing wrong with President Obama's executive action on immigration, which is why so few Republicans would vote for her today.
She will hate dealing with politics.
Lynch wasn't on top of the list of names of possible replacements for Holder, probably because plenty of people had no idea who she is. Federal prosecutors don't become U.S. attorney generals very often — although it turns out that working in New York City for years exposes you to to a wide variety of cases that probably prepare you very well for life in Washington.
She is, according to National Journal, "known as a workhorse, averse to holding big press conferences or amassing media attention." When Obama introduced his nominee to the world, he said, "Loretta doesn't look to make headlines. She looks to make a difference. She's not about splash; she is about substance."
She is also not afraid of going after politicians. She prosecuted former Staten Island Representative Michael Grimm last year. She has also prosecuted several Democratic state lawmakers in New York, including  State Senator John L. Sampson and former State Senator Pedro Espada Jr.
She will probably try to make nice with police.
Police officers across the country were definitely not big Eric Holder fans — especially after the Justice Department's intense recent focus on brutality in law enforcement. As someone who has spent nearly her entire career as a prosecutor, Lynch has a pretty good relationship with police groups — and is probably going to try to mend a few fences. One of her advisers told the New York Times, "She really thinks the communities and the police officers have more in common than they realize."
She won't agree with Obama on everything.
The word independent was paired with Lynch's name constantly during the confirmation process, both by the administration hoping to invite her aboard and by Republicans hoping that she would annoy them less than her predecessor. And it's true that Lynch doesn't agree with the Obama administration on everything — and there are already a few policy areas where you could see them butting heads. During her confirmation hearing, Lynch said she did not agree with the president in thinking that marijuana was less harmful than alcohol. "Well, senator, I certainly don't hold that view, and don't agree with that view of marijuana as a substance. … Not only do I not support legalization of marijuana — it is not the position of the Department of Justice currently, to support the legalization, nor would it be the position should I become confirmed as attorney general." The Justice Department has not made enforcing pot laws a focus during Obama's presidency thus far. She has called capital punishment  "an effective penalty," while Obama has seemed far more conflicted on its use in the U.S., saying in 2014 that he saw "significant problems" with who was being executed, and how. 
Cybercrime will likely be a big priority.
While serving as United States attorney for the Eastern District of New York. Lynch focused on dealing with cybercrime — and even prosecuted eight members of an international cybercrime ring. She has vowed to make this a big part of her agenda. "I intend to expand and enhance our capabilities in order to effectively prevent ever-evolving attacks in cyberspace, expose wrongdoers, and bring perpetrators to justice," she said during her confirmation hearing. She didn't provide many specifics on the matter, though. 
Regarding the National Security Agency's methods for fighting cyberterrorism — and other forms of terrorism, she has called them "certainly constitutional, and effective." The section of the Patriot Act that deals with the NSA's data collection is up for renewal in June.
She will have less than two years to accomplish anything …
… which doesn't leave much time to do radical transformations in the Justice Department. President Obama has to vacate the White House in January 2017 — and most of his cabinet is going to need to pack up with him.