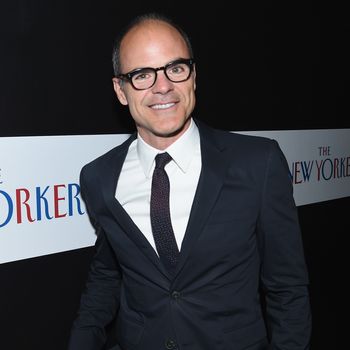 People love Doug Stamper. To put a finer point on it: At People and Time's annual White House Correspondents' Dinner eve cocktail party, everybody loves Michael Kelly, the actor who plays Stamper on Netflix's House of Cards.
As soon as Kelly enters the lushly carpeted reception room at Washington's St. Regis hotel, he is mobbed by fans eager to have cell phone pictures taken with the guy who — spoiler alert! — decided not to run over Rachel Posner with a van, then actually did run over Rachel Posner with a van.
As a veteran of the Correspondents' Dinner scene, Kelly is used to the selfie mob. He's also used to various Capitol Hill staffers telling him that the ruthless Stamper reminds them a lot of people they know in Washington.
"It's more about people coming up and they're like, 'I know a guy just like you,'" says Kelly, who, for the record, is far warmer than his chilly Netflix alter ego. "Especially the young staffers. Maybe not [someone who commits] murder. But pretty close. It's always kind of funny when they know somebody who's sort of like Doug. It's like, 'Wow.'"
D.C. and popular culture often collide, on House of Cards and elsewhere. But they never crash into each other with greater force than during White House Correspondents' Dinner weekend, now in full swing in our nation's capital. As per usual, the dinner — or Nerd Prom, if you absolutely insist — has arrived with the traditional excess of celeb- and politico-heavy parties, as well as articles complaining that all this excess makes members of the media seem far too chummy with government officials. Both the Washington Post and Politico, among others, ran stories that raised questions about the lack of journalistic ethics behind this whole catered, swag-baggy affair.

Kelly says he doesn't understand all the concern: "I think it's kind of silly, because this night's about the journalists. Yeah, we get to watch the president. We all get to have fun at his expense, and he has a great time. But really, it's about the journalists, and the young journalists who get the scholarships [from the White House Correspondents' Association] and get to continue that cycle of great coverage, open coverage, of our president and the White House."
"I think the criticism is a little harsh," he adds. "For me it's like, why can't you guys have a party?"
Evidently, no one's stopping us. The Time/People event alone — one of approximately eight bazillion soirees hosted by various media outlets and corporate entities the night before the big dinner — attracts the likes of Jane the Virgin star Gina Rodriguez, who pops in briefly before heading off to host a Voto Latino event down the street at the Hay-Adams; Tracee Ellis Ross of ABC's Blackish; skater/NBC figure-skating commentator Tara Lipinski, who says her partner in triple axel-assessment, Johnny Weir, will arrive in D.C. on Saturday; Gayle King; and Alfre Woodard, among others. Clearly the annual kerfuffle about the necessity of nerd prom hasn't forced the Hollywood contingent to stay home.
But Today co-host Tamron Hall — dressed in an eye-popping spring floral shift with a sculptured top that she compares to origami — says she may have to head home, or at least back to her hotel, before Friday's parties are over. Why? So she can watch the much-hyped Diane Sawyer interview with Bruce Jenner.
"It could be a transformative interview, for all of us," she says. "I have a friend that I won't identify — he's a very well-known person. He and I talk about it all the time, and I've learned so much about gender identification, about what transitioning means."
Yes, she's going to make sure she's home by 9 p.m. so she can see it. After all, White House Correspondents' Dinner weekend will still be happening tomorrow. The parties have only just begun.