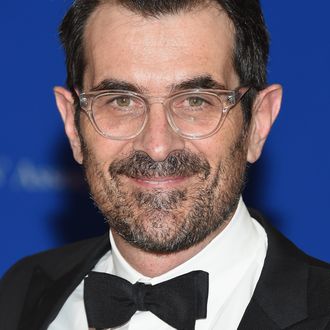 A funny thing happened while Daily Intelligencer was interviewing Ty Burrell at ABC and Yahoo's White House Correspondents' Dinner Cocktail Reception. Burrell, also known as Modern Family's Phil Dunphy, was recalling a previous Correspondents' Dinner when he was interrupted by a fan who said that he currently works for Mike Huckabee. "I'm kind of late to the party with your show," the Huckabee staffer said, "but I've been catching it on demand. The writing is outstanding. I'm a sucker for good writing, and it's great."
Burrell thanked him graciously and resumed our conversation. But the idea that an employee of former Arkansas governor Mike Huckabee — a conservative who has been crystal clear about his opposition to marriage equality — could be such a huge fan of the decidedly gay-friendly Modern Family was … interesting. After chatting with Burrell, Daily Intelligencer tracked down that Huckabee aide and asked him to elaborate on his love of the show.
He asked not to be quoted on the record, acknowledging that his boss was anti gay marriage and that he didn't want his appreciation for the Dunphy family's antics to be misconstrued. He then reiterated that the show's writing is really great, and added that Modern Family's appeal has nothing to do with gay or straight. It's just about what's funny, he said.