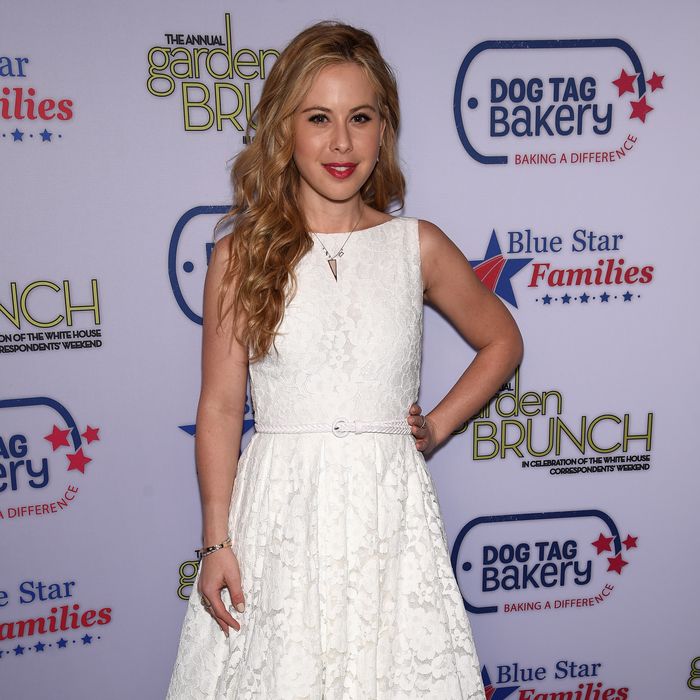 "Tara Lipinski, did you ever think you'd be on C-Span?"
A reporter for the network devoted to congressional coverage asks the figure skater and NBC sports commentator this question in the press area at the annual White House Correspondents' Dinner garden brunch. But that question also feels like a summary of the randomly tossed personality salads that are most White House Correspondents Dinner events. That includes this one, which is co-hosted by major influencers such as media consultant Tammy Haddad, AOL co-founder Steve Case, and several others. This year, the event has finally put Norman Reedus from The Walking Dead and presidential adviser Valerie Jarrett in the same room. (A publicist says she arranged an introduction between the two, which Daily Intelligencer does not witness.)
Truly, the only way to handle WHCD weekend is to come prepared.
Lipinski has, at least fashion-wise. After she finishes chatting up C-Span, she admits to Daily Intelligencer that she has only a vague idea of which events she'll be attending during the remainder of the weekend because NBC White House correspondent Chris Jansing has planned her agenda. Which raises the question: How did Lipinski know what to wear?
"I have some outfits because I'm doing the [Kentucky] Derby with Johnny [Weir] next week," she explains. "So I packed a lot. I came fully prepared. I came with three suitcases."
"But I am gone for two and a half weeks," she adds, as a qualifier, "so."
Cosmopolitan editor Joanna Coles, dressed in an elegant navy jumpsuit, is ready for something else as the dinner unfolds: a knockout performance by emcee Cecily Strong, only the fourth female to preside over the evening of political punch lines.
"The last couple of times I've been here, it's been very tall white men," Coles says, "and now we have a medium-sized woman with dark hair. I love it."
Perhaps once you become a veteran of the WHCD circuit, you're so prepared for anything that nothing can possibly be shocking anymore.
"You know what's so funny about this Correspondents' Dinner?" confides Constance Zimmer, better known as Janine from House of Cards. "Everybody makes sense to me, because I feel like, if you're not on a political show as an actor, you have a voice. You have a vision and they bring you here so that we can all do [this event] together. For me, I'm like, Oh, I get that. I understand. I see why that person's here."