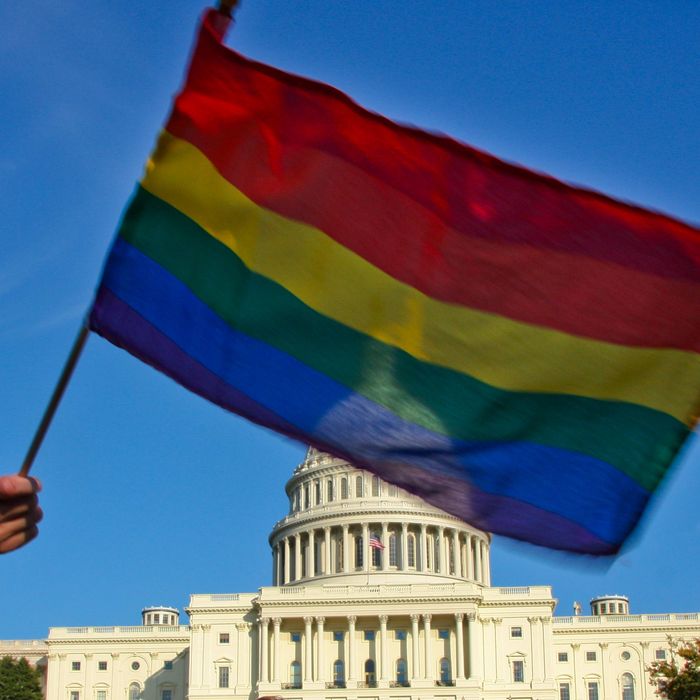 Photo: MARIA BELEN PEREZ GABILONDO/2009 AFP
President Obama has taken another step in his evolution on gay rights, but the LGBT issue he promoted on Wednesday night isn't the one everyone's been debating for the past two weeks. In response to a We the People petition calling for a ban on LGBT conversion therapy for minors, the White House posted a statement condemning the debunked treatment that aims to "repair" gay and transgender youth. "While a national ban would require congressional action, we are hopeful that the clarity of the evidence combined with the actions taken by these states will lead to broader action that this Administration would support," wrote Valerie Jarrett, senior adviser to the president.
The petition referred to the story of Leelah Alcorn, a 17-year-old transgender girl who killed herself in December and said in a suicide note posted online that religious therapists tried to convince her she was a boy. But there was a push to ban the therapy at the state level even before Alcorn's tragic death. In the past three years, California, New Jersey, and the District of Columbia outlawed the treatment, and LGBT organizations are pushing other states to do the same. While the American Psychological Association opposes the practice, many state legislators say parents should have the option of giving their children "reparative therapy," and have quietly killed the bills.
Obama's statement comes at a key time in the movement. In the past few months, bans have failed across the country, but they are still pending in 15 states. Here's how the campaign to end conversion therapy is progressing.
STATES WHERE CONVERSION THERAPY BANS JUST FAILED
Colorado: Hours before the White House announcement on Wednesday, a bill banning gay conversion therapy failed in the Colorado Senate's Veterans and Military Affairs Committee, with all three Republicans on the five-person committee voting against the bill, according to the Denver Post. Republican senator Owen Hill explained that while some say government should "mitigate the possibility of risk from our lives," on the other hand "human dignity is upheld by allowing individuals to choose." The bill's Democratic sponsor says he will reintroduce the bill next year.
Hawaii: A bill banning the therapy died in committee in 2014. State senator Suzanne Chun Oakland said she had trouble even finding sponsors for the legislation. "It barely made it," she said. "A lot of members didn't want to sign it."
Maryland: In March 2014, Baltimore county delegate John Cardin withdrew a bill he sponsored that would have banned conversion therapy. In a joint statement, Cardin and Equality Maryland said they decided the bill was unnecessary because patients can file complaints about such therapy to state health occupation boards. "Minors or anyone advocating on their behalf can file a complaint with a board, triggering a vigorous investigation," the statement said. "If the investigation uncovers proof that a licensed health care professional violated the standard of care, then the board has an array of regulatory tools to keep this from happening again."
Virginia: Bills that would have banned conversion therapy died in January, just six weeks after the first was introduced. During that time PFOX, a.k.a. Parents and Friends of Ex-Gays and Gays, erected a controversial billboard along I-95 in Richmond claiming that the existence of identical twins with different sexual orientations proves that people aren't born gay. Kyle Roux, the model featured on the billboard, said he's an "out and proud" gay man and does not have a twin, straight or otherwise. 
STATES STILL CONSIDERING BANS ON CONVERSION THERAPY
In 2015, lawmakers in Arizona, Connecticut, Massachusetts, Minnesota, Ohio, Florida, Pennsylvania, and Vermont introduced bills on conversion therapy, but the legislation has yet to make much progress. Bills in the following states have seen more action.
Illinois: An effort to enact the Conversion Therapy Prohibition Act was launched earlier this year. The House bill was approved in committee last month and is scheduled to be considered by the full House this spring. Similar legislation failed in the House by a vote of 44–51 last year.
Iowa: A bill banning conversion therapy for minors was introduced in January by State Senator Matt McCoy, Iowa's first openly gay legislator. Last month it was approved in committee, though every Republican voted against it. According to the Des Moines Register, "It's doubtful the measure will pass this session, but gay rights activists hope to keep lobbying on the issue and win approval in 2016."
Nevada: This week a Nevada Assembly committee reviewed legislation that would ban conversion therapy and allow anyone subjected to the therapy as a minor to sue. The committee has not acted on the bill.
New York: Last summer New York's Assembly passed legislation prohibiting the use of conversion therapy on minors by a vote of 86 to 28, but Republican Senate leaders let the legislative session end without voting on the measure. "This bill had the votes to pass the Senate, virtually unanimous support from mental health professionals, and was modeled after legislation passed with bi-partisan support in California and New Jersey, where it was signed by Republican Gov. Chris Christie," said Senator Brad Hoylman, the chamber's only openly gay member. Similar legislation was refiled this year.
Oregon: Last month the Oregon House of Representatives voted  41–18 to outlaw conversion therapy. Now the bill will be considered by the Senate.
Rhode Island: Efforts to ban the therapy failed in recent years, and the prospects of passing legislation introduced this year don't look good. After considering the Prevention of Conversion Therapy for Children Act, last month the Rhode Island Senate Committee of Health and Human Services voted that the measure should be "held for further study."
Texas: Last month LGBT advocates were relieved that a bill opposing conversion therapy was introduced in the Texas legislature. They had worried that Texas legislators would push legislation supporting the treatment because last summer the Texas Republican Party adopted a plank recognizing "the legitimacy and efficacy of counseling, which offers reparative therapy and treatment for those patients seeking healing and wholeness from their homosexual lifestyle."