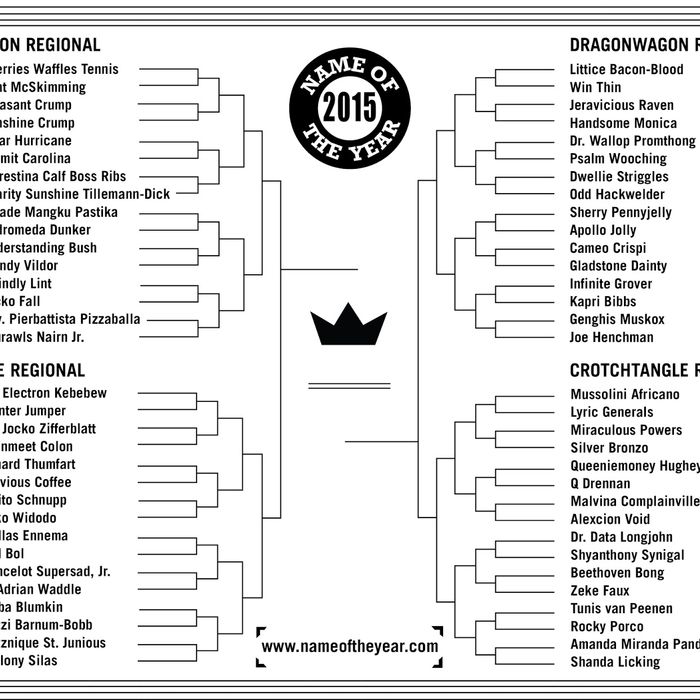 Photo: Courtesy of Nameoftheyear.com
The first winner of the Name of the Year award was Hector Camacho, a boxer from Spanish Harlem "who lived dangerously," according to the headline of his obituary in the New York Times, and "variously entered the ring in a diaper, a Roman gladiator's outfit, a dress, an American Indian costume complete with headdress, a loincloth and a black fox fur robe with his nickname, Macho, stitched across the back in white mink."
His name was posted on the door of a dorm room at an Ivy League school in 1983, and a group of sophomores decided that this musical arrangement of syllables was the best name of about a dozen that they assembled from newspaper stories and other reputed sources of proper nouns.
More than 30 years later, those students, now grown up, are still choosing their favorite name every year but Macho's moniker — if not his life — seems pretty tame compared to those the Internet has managed to unearth. Name of the Year conceded that Camacho "wouldn't merit a second glance in today's competitive naming environment" on its website, which has hosted the now-beloved March Madness bracket since 2007.
Every year, a few of those original judges go to Walker's in Tribeca, armed with about 200 names that they discovered among the hundreds of email submissions the group receives throughout the year — often from people who wish to nominate themselves. The only test each name had to pass — besides being amusing — was that it appeared in a newspaper, a court document, or a local news broadcast — anything that would prove the name's veracity, if not explain its existence. The gang reads each of the names aloud at the bar while watching a basketball game, and sets aside the 64 that made them laugh hardest — sometimes after brief consultation with the waitress, if she happens to be the same one they've had most years. Then, the names are seeded and posted online, and the internet and the original crew — or the High Committee — pick the best.
Last year, Shamus Beaglehole won the top prize; you can read about it on his dad's Wikipedia page. The year before that, Leo Moses Spornstarr won. In 2008, Destiny Frankenstein, a University of Kansas softball player, mounted a campaign to make sure everyone she knew voted. The "High Committee" rewarded her efforts; "the people" chose Spaceman Africa.
"A great name is in the eye of the beholder," says an East Coast writer who has helped run Name of the Year since 1983 — and would like to remain anonymous because he's made it this far without being found out. He explains his theory of great names, which he has had decades to refine. 
"A great name can be so many things. A great name can be terrific first names paired with hilarious surnames; they can be pedestrian names and one outrageous name; they can be names that pair geographic locations — L.A. St. Louis was name of the year once, Paris London was a nominee — they can be absurd names; they can refer to historical characters or people in pop culture."
And yes, he does have a favorite name of all time: 1992 Name of the Year winner Assumption Bulltron. "It's a real-word first name, combined with a seemingly made-up last name. Put them together," he says, "and there's something wonderful about it."
Not all the winners are as tickled by the honor as those who vote for it, and plenty of people have called Name of the Year offensive for the names it chooses to elevate. Sometimes contestants ask organizers to remove their names, and they do. "We do not aim to offend anyone," says the anonymous compiler. "We don't aim to make fun of anyone; we're just sort of intrigued by the way people name themselves or their children." 
1993 Name of the Year winner Crescent Dragonwagon says that she wasn't sure how to feel. "I don't know if I thought of it as an honor," the Vermont-based cookbook and children's book author says, laughing. "I thought of it as a 'will you never be done with the mistake you made when you were 16.'" Dragonwagon — her friends call her Dragon — explains the story behind the name on her blog; she wrote it down because she was sick of telling it. It was the '60s, she was getting married to a man that thought no woman should change their last name, so they decided to come up with a new one. After much debate, they landed on Dragonwagon. 
"But I will say it's a great children's book name," she writes of her creation myth. "Kids love saying it. Plus, I enjoy seeing how various mailing-list computers maim it. For instance, I've gotten letters from credit-card companies and charities beginning, 'Dear Mr. Wagon,' and solicitations addressed to Dr. Agonwagon. I'm just so tired of being asked about it, or being typecast as 'Enh, took too much acid in the '60s.'"
The popularity of the original Name of the Year bracket has spawned an endless number of imitations and much media coverage (Deadspin hosted the bracket last year). In 2013, two recent Northwestern grads started their own Name of the Year bracket and were asked to join forces with the original Name of the Year crew. They are now part of the judging committee that gathers at Walker's. 
This year's winner is still being decided, so it's unclear whether Reverend Pierbattista Pizzaballa will make the final four, or if Understanding Bush will bring the title home to Brooklyn. Some names have already fallen. Pleasant Crump, the last verified Confederate veteran (you can win Name of the Year posthumously), has vanquished former Arkansas reporter Sunshine Crump, and Florida woman Cherries Waffles Tennis beat Dent McSkimming, "the only American sportswriter to attend the 1950 World Cup."
CUNY video editor Beethoven Bong, who just beat Bloomberg reporter Zeke Faux on Thursday with nearly 91 percent of the vote, had no idea what I was talking about when I emailed him about his placement on the bracket. "I've googled my name before and have seen small threads about how it might be a pen name and not my actual name. I got a kick out of that, but this might top it."
Faux hadn't heard of it either and would like everyone to that his last name is pronounced "Fox." "I have no idea how I got on there," he writes, "but my dad is going to be psyched."
There is one repository of strange names that Name of the Year will never mine: those bestowed upon celebrity children. Would North West best Montana politician Forrestina "Frosty" Calf Boss Ribs? Would Kal-El Coppola Cage be considered a better name than Amanda Miranda Panda, who was arrested for shoplifting in Boise last year? The guy running Name of the Year would argue they wouldn't, because they've become so familiar as to take away all the fun.
An Apple Martin, like a Hector Comacho, has lost the ability to surprise us. Someday, more recent winners — like 2007's Vanilla Dong — might recede into the same pedestrian backdrop of proper nouns too. 
"It takes some of the thrill away from discovering it," he says of well-known oddities. "Half of the fun of Name of the Year is that first moment when you read a name, and Shamus Beaglehole is staring back at you from the screen. That moment of pure joy at learning that someone in the world has this name, and is out there."