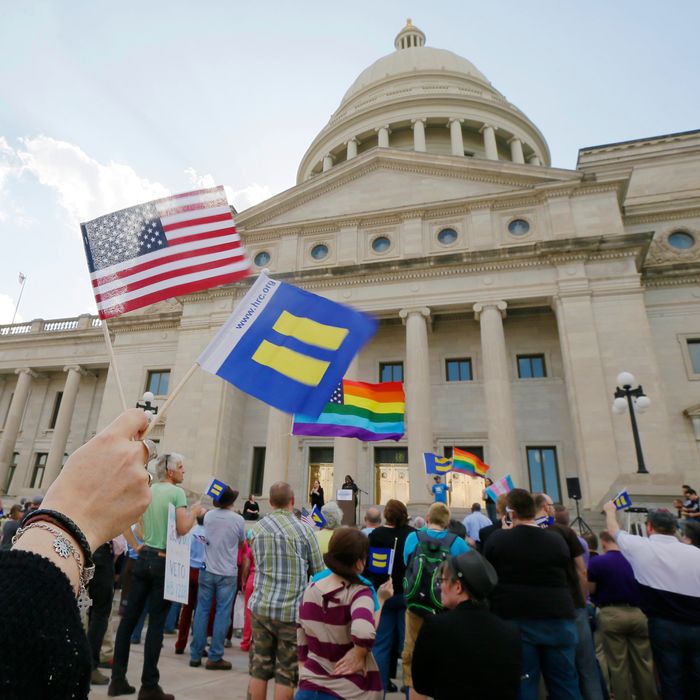 Demonstrators attend a rally opposing RFRA at the Arkansas state Capitol in Little Rock on March 31, 2015.
Photo: Danny Johnston
Arkansas legislators took a look at the massive backlash against Indiana's new religious-freedom law and decided they still want in. Despite a new round of protests from multiple corporations, including Walmart, the state's largest employer, on Tuesday afternoon the Arkansas House approved the Religious Freedom Restoration Act (RFRA). Now it heads to the desk of Republican governor Asa Hutchinson, who has said he intends to sign it.
Opponents say such laws are intended to make it easier to discriminate against LGBT individuals, but now that the issue has drawn national attention, Arkansas legislators insist that was never their intent. Republican state representative Bob Ballinger, who sponsored House Bill 1228, said claims that the bill is anti-gay are a "mischaracterization." "What my bill was focused on was to let somebody believe what they want to believe, carry out that belief and not have the state interfere with it," he told CNN.
So why does Arkansas need such a law? Here's what the bill's defenders said when it was introduced a few months ago.
When Ballinger asked the state's House Judiciary Committee to clear the bill on February 10, he explained:
If it's a butcher who is a Muslim and doesn't deal in pork, you can't make him deal in pork … If it's a Christian who is against same-sex marriage, you can't make him perform a same-sex marriage.
At the same time, the Arkansas legislature was considering Senate Bill 202, which prevented cities and counties in the state from passing their own anti-LGBT discrimination ordinances (it became law last month). Republican state senator Bart Hester, who co-sponsored both bills, told BuzzFeed business owners should be allowed to fire people for being gay, and said he found efforts by officials in Fayetteville to expand local LGBT protections "infuriating." "There are many things necessary for stability — and civil rights need to not be a volatile situation," Hester said. "It's got to be something we agree on for the entire state." Hester acknowledged gay and transgender people can face discrimination but said, "We are all singled out for discrimination." He explained:
I am singled out as a politician. I am singled out because I am married to one woman. I want everyone in the LGBT community to have the same rights I do. I do not want them to have special rights that I do not have.
Before votes in favor of both bills on February 13, Representative Mary Bentley argued before the House the issue was about "little businesses out there, a baker or a pastor … that hold a conviction that says gay marriage is wrong." She continued:
A baker who loves the word of God … should not have his or her business destroyed if someone who is transgender is trying to marry somebody else … I am a Christian in the United States of America, … It's time to stand up and say enough is enough. They can do what they want to do, but we don't have to destroy a business. I think it's time that business owners have rights as well.
During the same session, Ballinger confirmed that the religious-freedom law would apply to business owners who refuse to serve LGBT individuals, though he said he doesn't see that as a civil-rights violation. Per the Arkansas News:
Ballinger said after the vote that HB 1228 would apply in the case of a baker who refused to make a cake for a gay or transgender person, although he said that "it doesn't mean you automatically win."

Ballinger also said he believes that gay rights and civil rights for blacks are different issues because people are born into their race but sexual orientation is "a choice."
Arkansas has "virtually no laws that grant special protections for gays and lesbians," according to The Wall Street Journal, and Ballinger said this week that the debate on making homosexuals a protected class under state civil rights "needs to happen." However, on Monday when a House Democrat asked Ballinger to put language in the bill that said it had no discriminatory intent, he refused. "You can discriminate when you select a hamburger instead of a pizza," he said.