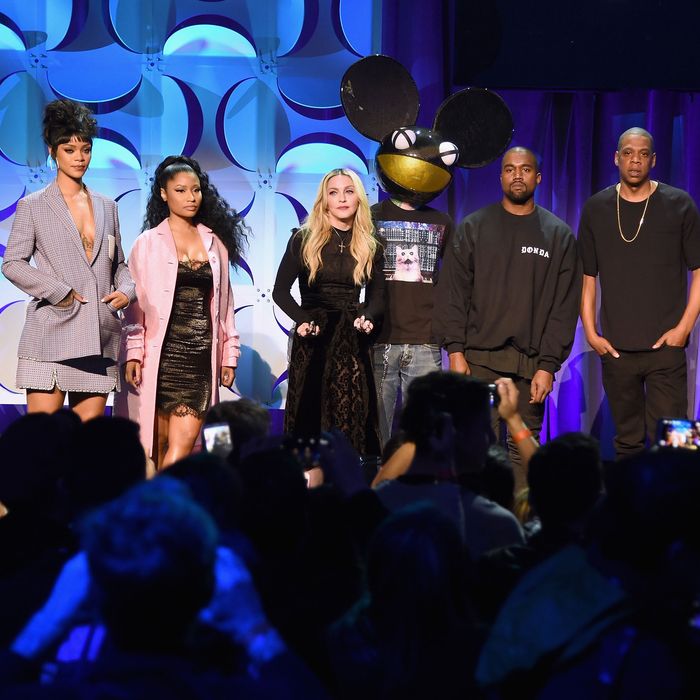 Usher, Rihanna, Nicki Minaj, Madonna, Deadmau5, Kanye West, JAY Z, and J. Cole onstage at the Tidal launch event
Photo: Jamie McCarthy/Getty Images
Delicious music-industry hypothesis of the week goes to Tero Kuittinen of BGR.com: It seems that Jay Z's much-hyped streaming-music service, Tidal, has not only massively flopped, but it has done so while driving more attention and users to its bigger, better rivals, Pandora and Spotify.
App Annie data shows that Tidal has collapsed from being the 23rd most downloaded app as of the end of March to the 872nd currently. At the same time, downloads for Spotify and Pandora seem to have held steady, at last judging by iPhone data. And their revenue has surged, Kuittinen said.
On April 20th, Pandora and Spotify occupied positions No. 3 and No. 4 on the U.S. iPhone revenue chart, respectively. This was the first time two music streaming services have hit the top 4 in sales simultaneously. In order to achieve the feat, Pandora and Spotify had to push Candy Crush Saga out of U.S. iPhone top 4 revenue chart, which is a remarkable achievement. …

Spotify surged back into the iPad top 40 download chart on March 31st, right when Tidal's anti-Spotify invective hit its peak in American media. This had not happened since November 2014. It looks like Tidal's attacks on Spotify and Pandora actually managed to increase public awareness of the services, boosting Spotify's download performance in particular at the end of March. And now, a few weeks later, the combined revenue performance of the two music apps is hitting a new milestone. To add insult to injury, Beats Music has started cracking U.S. iPhone top 20 revenue chart.
In other words, it at least seems plausible that a bunch of smartphone users saw all the media around Tidal, looked into the service, and realized they could pay $10 a month by signing up with Spotify or $5 with Pandora, versus the $20 a month Tidal charges for high-quality streaming. Or nothing. Both offer a free tier that often converts users to paying customers. Tidal does not.
It demonstrates the folly of Tidal in the first place. The company appealed to music listeners' hearts, not heads, from the outset. Music should not be free, Tidal's musician-owners argued. Therefore, they were starting a music service where it was not free. "The challenge is to get everyone to respect music again, to recognize its value," Jay Z told the New York Times. "Water is free. Music is $6 but no one wants to pay for music. You should drink free water from the tap — it's a beautiful thing. And if you want to hear the most beautiful song, then support the artist."
But the company's press conference featured a murderer's row of the biggest, richest names in music: Alicia Keys, Beyoncé, Daft Punk, Jack White, Kanye West, Madonna, Nicki Minaj, Rihanna, Usher. It was hard to believe that many of them were getting squeezed by the advent of Spotify and Pandora, rather than the broad changes in digital media that have nudged artists to make money through merchandise, touring, advertising deals, giving private concerts for violent dictators — what have you.
What's particularly annoying about the situation is that there are any number of artists who are struggling to make ends meet in any way possible. Music titans using their market clout to force existing players to grant more revenue to all artists, especially those artists, seems like it could be a nice thing, if perhaps a futile thing. (As industry analyst Bob Lefsetz points out, really changing the payment calculus would mean artists negotiating with Spotify, Apple, et al. directly. If they did that, they'd presumably be worried about themselves, not the little guys living in a van and eating ramen for every meal.)
The pitch for Tidal ended up sounding like nothing more than the world's worst charity appeal: "Your $20 a month could help a megastar like Madonna renovate the kitchen in her fifth home. It could help send a global phenomenon like Beyoncé to the Riviera for the summer. Won't you give now?" The music-consuming public, understandably, has answered "no."