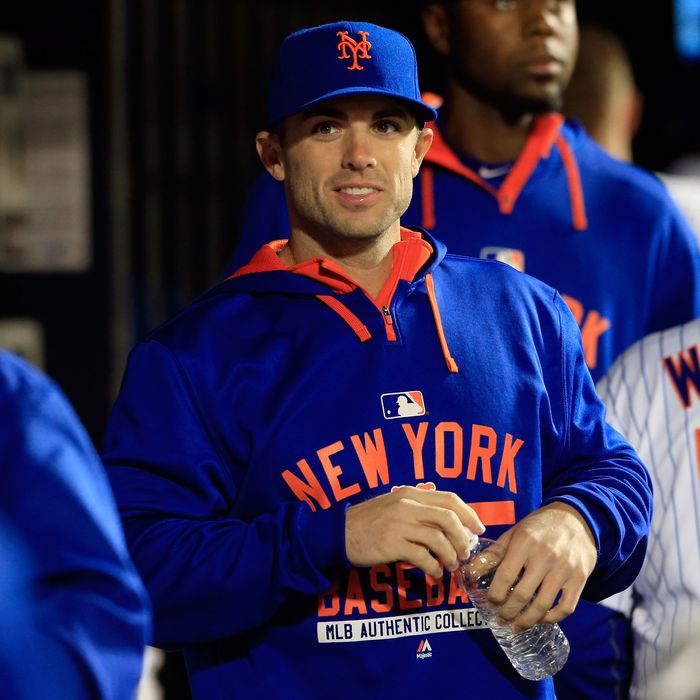 The Mets don't even need this guy right now!
Photo: Alex Trautwig/Getty Images
David Wright is a realist. He knows that hits, runs, and strikeouts — talent, in other words — are what win baseball games. But standing in front of his Mets spring training locker, surveying the impressive collection of young pitching and hitting talent assembled in the room, Wright talked about one key to the new season being something not measurable in cold statistics: learning how to win as a team.
The lessons are advancing faster than Wright or anyone else anticipated. These days all the Mets do is win. Last night's victory, 3–2, over the Atlanta Braves, was the Mets' tenth in a row.
They've won big (by six runs on Tuesday night) and they've won little (by one run four times). They've won when their ace, Matt Harvey, pitched like an ace (dominating the Nationals, striking out nine) and when Harvey was merely pretty good (squeaking by the Marlins, giving up four earned runs). They've won with clutch hitting by old guys (Michael Cuddyer) and with sublime defense by youngsters (Juan Lagares, who last night made himself grin with a ridiculous, twisting, sprinting, over-the-wrong-shoulder catch in deep centerfield).
The Mets will lose again, maybe even this afternoon, if starting pitcher Bartolo Colon suddenly realizes he's 41 years old and weighs (at least) 285 pounds. There is always, for Mets fans, the dread that all of this good fortune is a setup. That a crushing late-season losing streak will erase the margin of the Mets' current major-league-best 12-3 record. Or — worse — that Harvey's "minor ankle injury" will turn into "arthritic ankle condition, no timetable for his return."
But, perversely enough, the most encouraging long-term sign for this team is that they're winning while Wright, their best everyday player, is hurt and out of the lineup. As is the No. 1 catcher, Travis d'Arnaud. As is the guy who was supposed to be the third-best starting pitcher, Zack Wheeler. Also missing is the guy who was supposed to be the closer, Jenrry Mejia, who flunked a steroid test and is gone for 80 games.
The Mets should be stronger, in practical ways, when three of the four return. Yet their very absence is helping build the resourcefulness that Wright identified as a missing ingredient: If we can win without some of our best players, we should win even more when they're back. There are plenty of rational reasons the Mets will return to earth — including the fact that every ball hit to shortstop Wilmer Flores remains an adventure. Then again, Flores tied the game twice last night, with a single and, in the seventh inning, with a long home run.
"We've all been talking about how confident we are and talking about how high the expectations are," Wright said a few weeks ago. "At a certain point, you have to back it up — instead of talking with our mouths, talking with our bats and gloves." A series with the not-as-bad-as-predicted Yankees this weekend will provide a nice test of whether the Mets can handle the growing hype. For now, though, ya gotta believe.