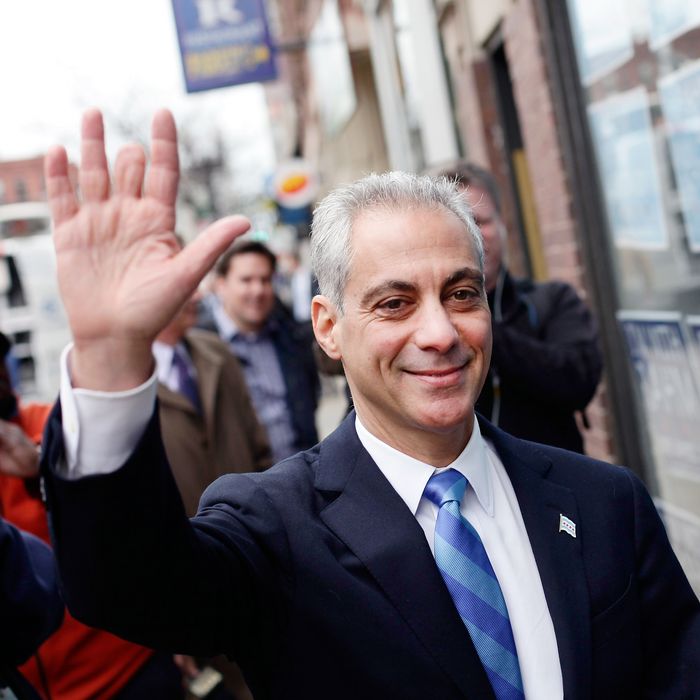 Oh hey.
Photo: Joshua Lott/Getty Images
Chicago residents couldn't decide if they wanted to keep Rahm Emanuel during February's mayoral election, but the polls show that he might have an easy win in today's run-off. A poll from April 4 has Emanuel up 51 percent to 33 percent over his opponent, Cook County Commissioner Jesús "Chuy" Garcia. About 15 percent of voters were still undecided. Garcia, who is planning a giant get-out-the-vote campaign today, argues that the polls undercount Latino voters and young people — where he finds much of his support. However, the timing of the run-off — right after Easter, in the middle of Passover and spring break — could also dampen turnout, although early voting numbers were high.
The polls close at 7 p.m. CST — but the think pieces assessing Rahm Emanuel's first term will last forever.
There's another big election in Ferguson today. The St. Louis suburb will hold its first citywide election since Ferguson became a word the entire country knew and had opinions about. Three seats on the city council are up for grabs, and if African-American candidates win two of them, half of the city council will be black for the first time in Ferguson's history. 
Only two black council members have ever served on the council — one of whom is a current incumbent. Regardless of the results, the number of black council members will at least double by the end of the day.
In the past, turnout in Ferguson has been dismally low. Although there are nearly 15,000 eligible voters in the city, fewer than a quarter traditionally turn out. In the last city council race, fewer than 12 percent of voters turned out.